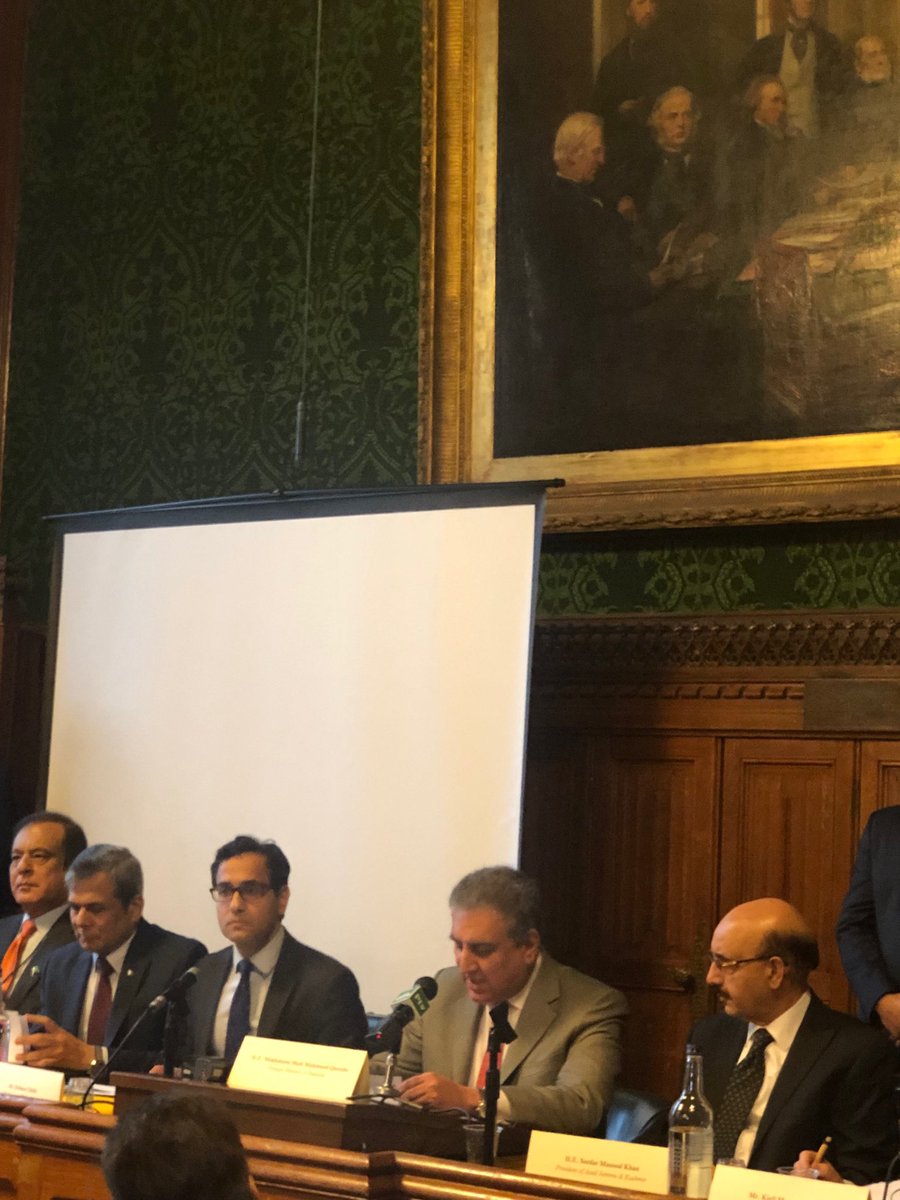 ---
LONDON: An International Conference on Kashmir in London adopted a resolution expressing concerns over the plight of Kashmiri people and urged the international community, including the United Nations, to take immediate and effective measures to address the human rights situation in held Kashmir.

Expressing solidarity with the Kashmiri people, the conference called for resolution of the Kashmir dispute in accordance with the relevant UN Security Council Resolutions of Kashmir. It expressed commitment to continue efforts for creating awareness on the issue.

The International Kashmir Conference was organised by the All-party Parliamentary Group on Pakistan at the British Parliament, said a message received here on Tuesday.

Addressing the conference, Azad Kashmir President Masood Khan said that the struggle of the people of Kashmir and this dark hour of oppression spread over 200 years, first under the tyrannical subjugation of the Dogra dynasty and after that under the occupation of India for the past 71 years.

He appealed to the members of British parliament – the House of Commons and the House of Lords – as well as the Foreign and Commonwealth Office (FCO) to come to the rescue of the Kashmiris as it was their humanitarian responsibility.

The AJK president said that India's hideous acts in occupied Kashmir constituted war crimes and crimes against humanity. "Indian forces are perpetrating crimes against humanity, this is genocide, this is ethnic cleansing and in clear violations in international laws, international humanitarian laws and the Geneva Conventions", he said.

AJK president slams India for curbing Mirwaiz's travel

He said that India's doctrine for resolving the issue is to use brute force in order to subdue the freedom struggle, while on the other hand Pakistan believes in a peaceful resolution of the dispute by allowing the Kashmiris to ascertaining their right to self-determination.

President Masood Khan said that eye opening reports have been published by the UN Office of the High Commissioner for Human Rights, Organization of Islamic Cooperation, and the UK All-Party Parliamentary Group on Kashmir.

He demanded the repeal of the black laws -- Public Safety Act and Armed Forces Special Powers Act -- to allow forensic investigation into the mass graves discovered all across Indian-Occupied Kashmir, ban on pellet firing shotguns and the establishment of a Commission of Inquiry, headed by the Human Rights Council.


Pakistan's Mission to the UN, organized an event to mark the #KashmirSolidarityDay Solidarity to reaffirm Pakistan's moral, political and diplomatic support to the legitimate cause of the #Kashmiri people for their right to #SelfDetermination.@antonioguterres#KashmirBleeds pic.twitter.com/f9pkFPi97R

— Spokesperson 🇵🇰 MoFA (@ForeignOfficePk) February 6, 2019