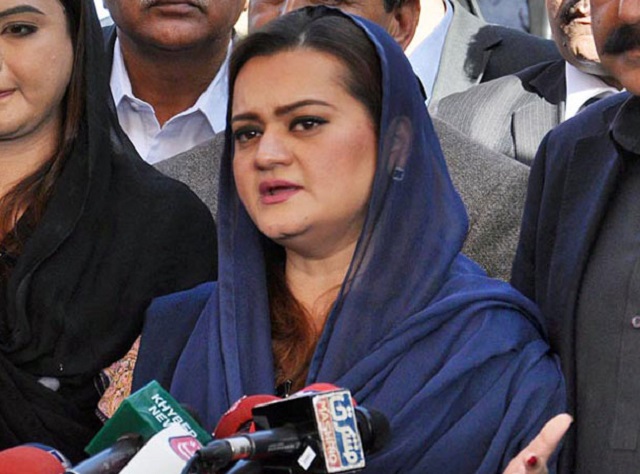 ---
LAHORE: Pakistan Muslim League-Nawaz (PML-N) spokesperson Marriyum Aurangzeb said on Saturday that Information Minister Fawad Chaudhry has realised that the Pakistan Tehreek-e-Insaf (PTI) government's days are numbered as it has lost all credibility among Pakistanis, and that he has started looking for his next job opportunity elsewhere.

Reacting to his statement earlier today regarding the PML-N leadership, Marriyum said the minister must first put his own house in order, and inform people that the "so-called austerity loving PM was using the same cars that Nawaz Sharif was using". She asked the information minister to address the grave crisis of thousands of journalists being laid off and deprived of legal perks and privileges.

She also reminded the information minister of his earlier statement, when Fawad claimed that the helicopter rides from Bani Gala to the PM House cost Rs55 per kilometer for which he was widely ridiculed.

PAC did not invite Vawda: Marriyum

Accusing the PTI of hypocrisy, Marriyum said that cosmetic solutions would not paper over the cracks of the government. She claimed that the electricity and gas expenditure of the prime minister's residence were now twice as much as what was incurred during the previous government's term.

The PML-N spokesperson also took a swipe at the state of the economy, saying that domestic debt had ballooned to $25 billion, while foreign debt had touched the $100 billion mark. "Despite this, the PTI is ranting about petty issues that the prime minister pays his own bill," she said.

On the issue of the recent hike in medicine prices, she said that people can no longer afford basic medicines because of PTI's policies. She also shared her thoughts on the withdrawal of subsidies on Hajj. "The PM resorts to showboating by going barefoot to Madina, while stepping on and crushing the dreams of millions seeking to perform the pilgrimage by withdrawing subsidies."

100 days, 100 lies: Marriyum hits out at PTI govt over 'poor show'

Taking the PTI to ask over its campaign promises, Marriyum remarked that there was no sign of the five million houses for the poor and the ten million jobs for the needy. "The PTI government is happy that unemployed Fawad Chaudhry finally found a job and Imran Khan could finally legalise his illegal Bani Gala property," she added.

She advised the government to put an end to 'their ubiquitously preposterous rants' and inform the people when the $300 billion that was laundered according to it, would return to the country.

According to the former information minister, in the past five months, the entire nation had been forced down the pit of hopelessness, dejection and uncertainty by the failure of the government. "The prime minister conveniently gifted insane subsidies to his blue-eyed industrialists while stealing the subsidies from honest, middle-class Hajj aspirants," she alleged.
COMMENTS
Comments are moderated and generally will be posted if they are on-topic and not abusive.
For more information, please see our Comments FAQ