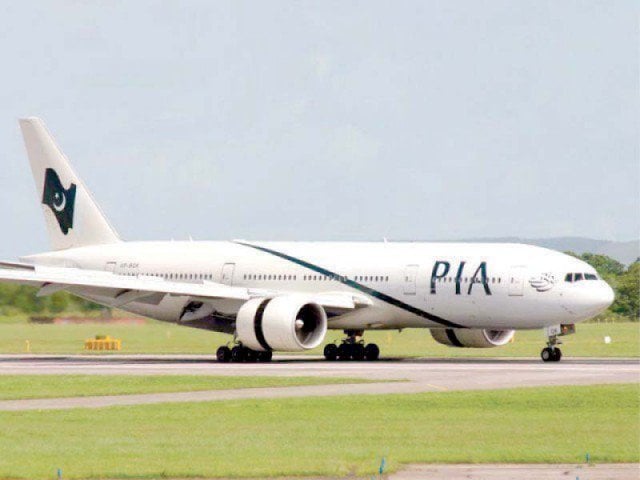 ---
KARACHI: Pakistan International Airlines (PIA) is losing millions of rupees as about half a dozen of its aircraft have been grounded.

The national carrier's Boing 777 AP-BHV has been grounded for the last one year as its engine needs repair. Initially, the airline could not afford the refurbishment of the aircraft, but later it was forgotten.

Had the administration paid attention, the airplane could have been overhauled a year ago, according to industry sources.

The airline is attempting to revive it, but it may cost three times now as many of its parts have been used in other aircraft.

PM Imran discusses major proposals to revive PIA

Recently, PIA decided to use one of its two Airbus A320 parts - AP-BLA and AP-BLV - in other aircraft so that they could reduce the loss. However, the remaining will keep causing losses to the airline as it has to pay rent of these non-functioning aircraft which are on lease.

The national flag carrier is also losing millions every month under the head of rent of two grounded ATR airplanes which are on dry lease.

It also has AP-BKZ, which is grounded due to some ordinary non-functioning parts while AP-BKW is also waiting for the start of flights after it gets a new engine.

"The PIA administration knocks down one plane to run other on an ad hoc basis," said an industry source.

Its own AP-BHN went through the same situation and lost all its parts to keep other aircraft in the sky. Previously, the administration tried to restore this airplane, but the estimates showed that taking new one on lease would be more profitable than renovating the old one.

Although PIA's own or leased aircraft are rusting, it has given an advertisement seeking four new aircraft on wet lease - aircraft including pilot and other cabin crew.

According to data from the Center for Asia Pacific Aviation (CAPA) Fleet Database, half of the commercial aircraft in service with the world's airlines are leased.

Airlines take decision with changing needs of time and routes. For example, if traffic on a route increases, airlines will exchange the narrow-body airplane with a wide-body one and for the time being the narrow-body airplane will stay on ground, said PIA spokesperson Mashood Tajwar.

Three pilots among 50 PIA staffers sacked over fake degrees

"An airplane goes through various kinds of safety and maintenance checks; these airplanes were grounded on different times," he said.

PIA meets needs of operations within its limited resources, which is why many of the aircraft lost their parts.

Besides, maintenance of these aircraft is decided by the top management and, unfortunately, the national airline changed four heads during the last year so it was in kind of a management crises, he added.

Published in The Express Tribune, February 2nd, 2019.

Like Business on Facebook, follow @TribuneBiz on Twitter to stay informed and join in the conversation.
COMMENTS
Comments are moderated and generally will be posted if they are on-topic and not abusive.
For more information, please see our Comments FAQ