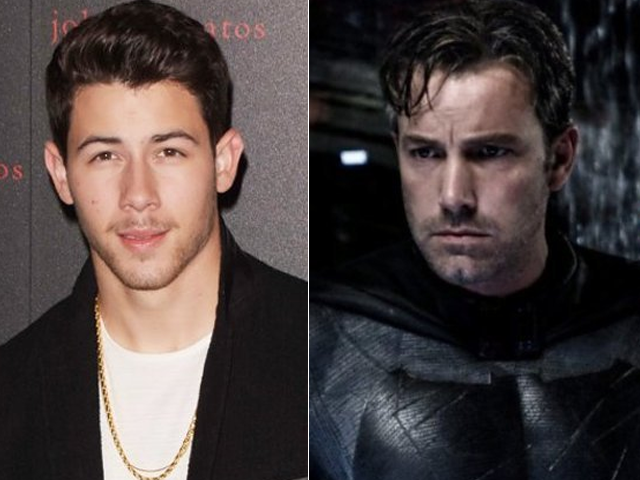 ---
Looks like DC just might have found their new Batman. And Twitter isn't amused at the thought.

It was just announced this week that Ben Affleck would be stepping down from playing the superhero in the new standalone film. Now, one actor is throwing his name into the ring as a potential replacement: Nick Jonas!

Nick left a comment on an Instagram post announcing Ben's departure from the role. Check out what he wrote in the gallery:






And yep, people aren't all that happy. Here are some reactions:


Some people fan casting Nick Jonas as Batman.
Seriously.😂🔫 pic.twitter.com/6tmvfCxbuK

— Sergio-El (@sergioees) February 1, 2019
I don't have anything against him, but not a good choice for #Batman. I don't know who would be because I kind of liked @BenAffleck as #BruceWayne, but now..... IDK. I just can't see @nickjonas playing #Batman, sorry pic.twitter.com/8pz9QgfTxk

— 🅳🅾🅼🅸🅽🅸🅲 🅻🅰🅽🅲🅸🅰 (@SlayTheDay28) February 1, 2019


https://twitter.com/jbluckett/status/1091255421074059264


Spider-Man banne ki umar me Batman banega @nickjonas?!? https://t.co/AitNJtiEHl

— k (@xsrkbatfan) February 1, 2019
If @nickjonas is the choice for Batman than I will totally stop watching DCEU. You guys are playing with the casting like. 5 years old kid.

— Swaraj Saikia (@__SAIKI__) February 1, 2019
I care nothing for boy films tbh pffffttttrr but Pretty sure his more successful wife who isn't a con artist lobbyed for him. Yeah I'm salty today don't mess up https://t.co/unEnYVO4SR

— Kanika Katyal 🌈 (@missworldwydweb) February 1, 2019


https://twitter.com/kyranasaurous/status/1091126415108567041

https://twitter.com/FierceLovato/status/1091136246963978240


Imagine nick jonas as Batman 😂😂😂

— r a c h e l (@rachuls) February 1, 2019
if nick jonas is even considered for the next batman i'm completely abandoning DC

— Liz (@RealLiz_Khalifa) February 1, 2019
Nick Jonas has already put his name in there and if Bieber too by any chance does the same, we will know the end is near. #Batman pic.twitter.com/Iv61AMN2tk

— RAY (@BeingAntiHero) February 1, 2019
"Nick Jonas as Batman" pic.twitter.com/4NvrFv0e96

— Raj (@jedikillerkylo) February 1, 2019


Would you like to see the American singer taking on the role? Let us know!



Have something to add to the story? Share it in the comments below.