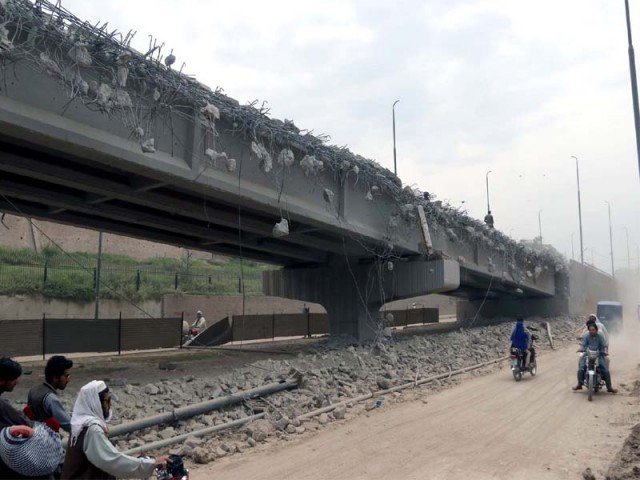 ---
PESHAWAR: To make the under-construction mass transit project in the provincial capital inclusive for all kinds of people, ramps have been built to provide easy access to those with limited mobility or are differently-abled.

These facilities and the rest of the project were reviewed by Khyber-Pakhtunkhwa Chief Minister Mahmood Khan who visited the Bus Rapid Transit (BRT) project in Peshawar on Sunday.

Special arrangements have been made for differently-abled people at 31 BRT stops per international standards to allow them easy access to and from bus stations of the transit system.

Apart from building ramps, a trail with markings in brail will be installed instead of tiles in all the corridors which can be used by the visually impaired. Once complete, this will be the first mass-transit facility in the country to incorporate all of these features for the specially-abled.

Moreover, special tracks have been set up those who are confined to wheelchairs. Moreover, the bus service doors are wide enough to accommodate wheelchairs and other personal mobility vehicles.

A spokesperson for the project said that they were working on the project around the clock, adding that work on 15 of the 31 BRT stations was complete.  Responding to a question, he said that the project was taking longer to complete because it was being expanded at other places.

Mahmood visits BRT

Mahmood also reviewed work on the Bus Rapid Transit (BRT) corridor.  He directed that the corridor is completed at an accelerated pace and that he will keep on visiting under-construction sections of the corridor and hold meetings twice a week.

The project should be completed within the given timeline, Mahmood said, as he warned against any delays in completing the project.

The CM said that the project was of a unique nature with multiple and additional features.

Conceding that the construction of the mega project had caused inconvenience to the public, the chief minister said that once it is complete, the project would solve all traffic congestion problems of the city.

"The timelines have already been set, the import of buses is around the corner, all preparations have already been completed for the project," he said.

"The government has from time to time taken corrective measures to address all issues," Mahmood said, noting that they had run into hiccups.

Published in The Express Tribune, January 28th, 2019.
COMMENTS
Comments are moderated and generally will be posted if they are on-topic and not abusive.
For more information, please see our Comments FAQ