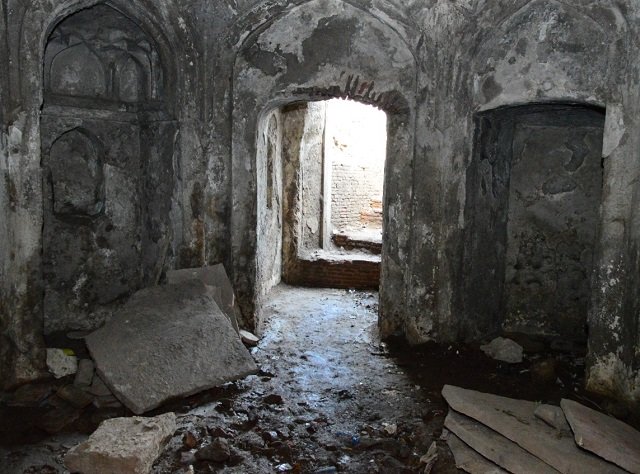 ---
LAHORE: Archaeologists have unearthed a Shahi Hammam (Royal Bath) from Mughal emperor Akbar's reign in Lahore's ancient Shahi Qila.

Lahore Walled City Authority's (LWCA) officials discovered the ancient bath after clearing over 100,000 cubic feet of rubble, Express News learnt on Sunday.




The bath is situated behind the area that holds the tomb of Emperor Jahangir. The structure is largely well preserved, as it was constructed using red sandstone bricks. The original channels built for water and the chimneys to let out steam are still intact and clearly visible.

Bringing back Lahore's diverse magnificence

The design of the grand bath at the Shahi Qila is similar to the royal bath built at the Delhi Gate of Lahore, with the former being relatively smaller.

Open baths, similar to this one had been found inside the Shahi Qila before, however, they could not be restored by archaeologists owing to the intensive damage to the structures.

According to Sania Qureshi, the spokesperson for Lahore Walled City Authority, the grand bath was discovered during the restoration and maintenance work at the royal fort.




Documentation for the new discovery will soon be completed, she said, adding that the grand bath is being preserved in line with UNESCO standards after which it will be opened for public.

The authority is preserving and restoring different parts of the palace through support from international NGOs and donor agencies.

The projects include ancient warehouse for artillery, royal kitchen, basement and tunnels as well as the grand picture wall, which is one of the largest royal palace walls in the world.

Most of these projects have already been completed but the work for many parts is still in process.

According to a senior officer from the archaeology department, the new discovery is not a royal bath but a bathroom that the Mughals used.
COMMENTS
Comments are moderated and generally will be posted if they are on-topic and not abusive.
For more information, please see our Comments FAQ