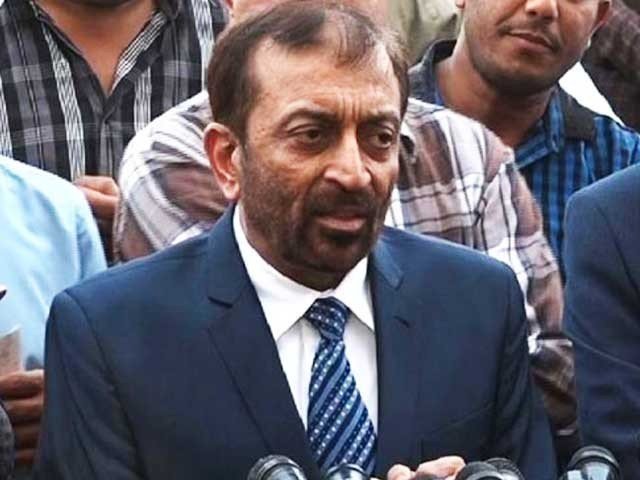 ---
Former Muttahida Qaumi Movement (MQM) leader Dr Farooq Sattar has said that if Prime Minister Imran Khan's Bani Gala property can be regularised then people of Karachi also deserved the same treatment.

Sattar's comments came in the wake of the continuing anti-encroachment drive in the Sindh capital, where illegal properties built on amenity plots are being razed on Supreme Court orders.

Meanwhile, a federal commission has been formed to regularise the PM's residence in the Islamabad suburb. The commission comprises 12 members with the chairman of the Capital Development Authority (CDA) as its convener.

Following the directives issued by the top court, the prime minister had submitted an application to CDA to regularise his Bani Gala properties in November last year.

Commission formed to regularise PM's Bani Gala residence

Addressing the media in Karachi on Saturday, the former MQM convener fired broadside at the Sindh government and city's mayor Wasim Akhtar for razing "10,000 shops and 1,500 houses in the campaign thus far", Express News reported.

He, however, welcomed Sindh Local Bodies Minister Saeed Ghani's statement, in which he vowed to prefer tendering his resignation rather than implementing court orders in connection with demolishing people's houses. "We expect similar statements from Khalid Maqbool Siddiqui and Wasim Akhtar," he added.

Criticising the second mini-budget of the federal government, Sattar said a special development package for Karachi should have been announced in the budget.

"Karachi pays Rs1,500 billion to Rs2,000 billion in taxes and deserves an annual package of at least Rs200 billion … where is Karachi's package which is its due right," he asked.

Will accept Farooq Sattar with open arms: MQM-P convener

Sattar also demanded a fresh census in the urban areas of Sindh and invited the prime minister and Finance Minister Asad Umar to accompany him on a city-wide tour to Karachi.

Commenting on law and order situation of the city, the former MQM leader said the security situation had worsened in the past few months and federal and provincial ministers, despite being apprised of the circumstances, had decreased personal security of the politicians. He urged the government to provide sufficient security to all notables and political leaders in the city.

Sattar said no progress was made in murder investigation of MQM-P's slain leader Ali Raza Abidi even on his chehlum (40th day after demise). Investigation agencies were not fulfilling their professional obligations in this regard, he added.