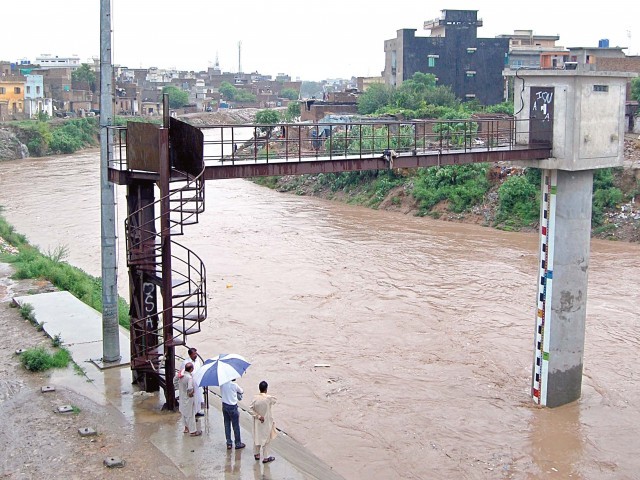 ---
RAWALPINDI: An old man has been killed with his body allegedly dumped in a Dhok Rajgan drain. However, police have arrested the man's son on suspicion that he and his wife were involved in the heinous crime.

The Saddar Beroni police said that Nasir came to them claiming that his father, Allah Ditta — a retired government employee — had been killed by unidentified men who had then dumped the body in a storm drain.

The police lodged a complaint and along with Rescue 1122, launched a search for the suspected body in the drain. The operation, though, had to be postponed due to the fast flow of water in the drain after heavy rains on Monday.

Two 'target killers' held for Peshawar peace committee chief's murder

Meanwhile, during investigations, officers suspected that Nasir could be involved in the incident.

Saddar Beroni DSP Farhan Aslam said that based on their suspicion, they brought Nasir in for questioning.

He then allegedly confessed to murdering his father with assistance from his wife in order to usurp his father's assets — which were bequeathed to him.

Nasir allegedly told the police that his father was visiting them in the city from their native village to collect his pension. Nasir said that he and his wife allegedly poisoned the food they served Allah Ditta.

Later, they allegedly chopped his body into pieces, packed them in a sack and then threw it into the drain.

The police said that they have arrested Nasir but his wife is absconding.

DSP Aslam said that they were conducting raids to arrest Nasir's wife.

Moreover, the search operation to trace Allah Ditta's body will resume today.

Boy electrocuted

The pursuit of a floating kite has landed an eighth-grader in the morgue in Rawalpindi.

The Morgah police stated that Owais was in school. During recess, he saw a kite floating away in the sky before getting snagged near the school wall.

Owais allegedly scaled the school wall in a bid to grab the kite.

But as he reached out, his hand touched a high-tension power cable from the nearby transformer. Such was the force of the shock that he was flung back with force.

He was rushed to the hospital in critical condition where he succumbed to his injuries.

Morgah Police Station SHO Chaudhry Yasir said that Owais was electrocuted by some 20,000 volts coming out of the transformer.

Published in The Express Tribune, January 23rd, 2019.