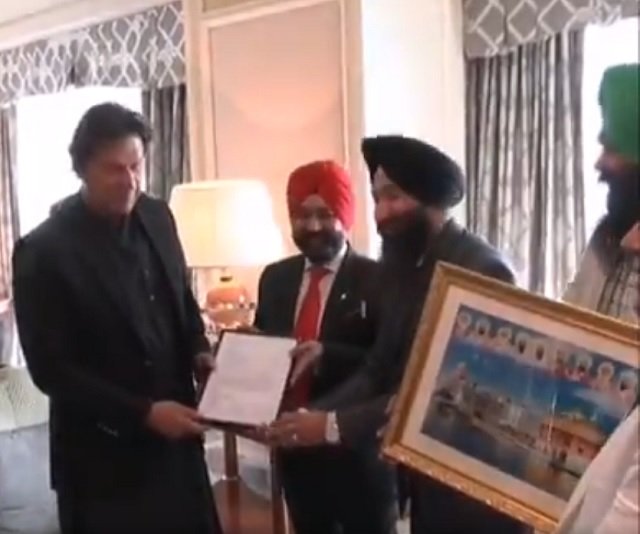 ---
Members of the Sikh community in Qatar have shown gratitude to Prime Minister Imran Khan for his initiative of opening Kartarpur Corridor, paving way for Indian pilgrims to visit the Baba Guru Nanak Gurdwara in Narowal.

The representatives of the Sikh community thanked Prime Minister Imran, who is currently on an official visit to Doha, for the groundbreaking of Kartarpur Corridor, which was the longstanding desire of the community globally, according to a statement issued by the ruling Pakistan Tehreek-e-Insaf (PTI) on Tuesday.


Representatives of Sikh community in Qatar called on Prime Minister @ImranKhanPTI in Doha.

The representatives thanked the Prime Minister for the groundbreaking of Kartarpur Corridor which was the longstanding desire of the Sikh community globally. #PMIKVisitsQatar 🇵🇰 🇶🇦 pic.twitter.com/CXZz4WoGFv

— PTI (@PTIofficial) January 22, 2019


The meeting comes a day after Islamabad extended an invitation to New Delhi to hold talks to finalise the agreement on Kartarpur Corridor opening in a move indicating the PTI government's continued efforts to reach out to the estranged neighbour.

First Sikh PRO to Punjab governor 'appointed on merit'

Pakistan also shared the draft agreement between the two countries to operationalise the Karatarpur Corridor.

Prime Minister Imran inaugurated the ground breaking ceremony of the Kartarpur Corridor on November 28 last year.

Pakistan took this step to accommodate the longstanding request of the Sikh community, especially from India particularly in view of 550th Birth Anniversary of Baba Guru Nanak.

Indian team invited to finalise Kartarpur deal

"This is in line with Islamic principles that advocate respect for all religions and Pakistan's policy of promoting inter-faith harmony and religious tolerance and also in line with Quaid's vision of a peaceful neighbourhood. Pakistan would continue with its efforts to bring peace and stability in the region," said a foreign office statement issued on Monday.

The move comes despite no apparent positive movement towards the normalisation of relationship between the two countries. With India heading for elections in few months, there is little chance for any major breakthrough in the near future.