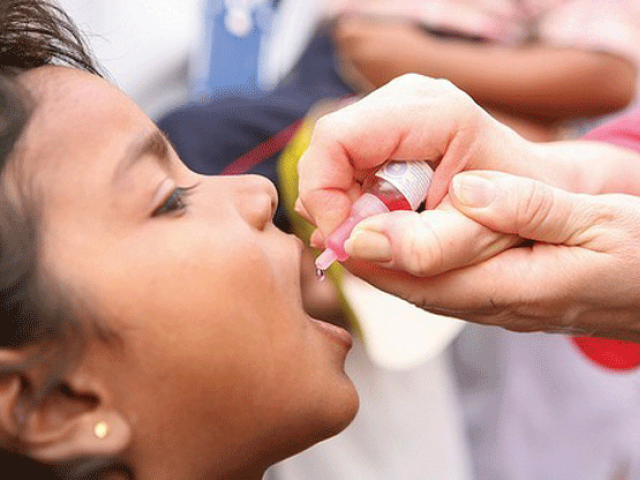 ---
PESHAWAR: Two more polio cases have emerged in Bajaur tribal district of the Khyber-Pakhtunkhwa (K-P), the National Emergency Operations Centre (NEOC) Islamabad notified on Saturday.

According to the NEOC, the National Institute of Health (NIH) has isolated wild poliovirus from the stool sample of a 36-month-old boy, Abdur Rehman and a 78-month-old girl Nabila. Both of them are residents of village Jaba Manzai, UC Tali, Tehsil Salarzai of district Bajaur.

The 'onset dates' when the children got paralysed because of poliovirus were respectively December 29, 2018 and December 31, 2018. The stool samples were collected to check the presence of the polio virus on Jan 8, 2019 and Jan 7, 2019 from Abdur Rehman and Nabila respectively.

The laboratory isolated wild poliovirus from the stool and confirmed them to be the polio cases.  Both the children received more than 7 doses of oral polio vaccine and zero doses of essential/routine vaccination. Both the children show slight weakness in one of the limbs or slight paralysis.

The NEOC K-P Coordinator Kamran Ahmed Afridi said: "Every confirmed polio case from Bajaur is proof in itself that gap exists and there is a need for improving the quality of the campaign. Teams have already been notified who should identify gaps and propose the strategy to recover".

He advised the provincial team to ensure access to and vaccination of each and every child, especially in Bajaur during the upcoming anti-polio campaign. He said any negligence on the part of any officer will be dealt with strictly.

In tribal districts, a three-day polio campaign will be launched from Monday, January 21, through January 23. It will be followed by a catch-up of missed children and surveillance, under the supervision and security provided by deputy commissioners, district health officers and security forces.

A total of 4,120 teams comprising 3,803 mobile teams, 227 fixed and 90 transit mobile teams will conduct the campaign and try to reach a total of 8,84,771 children below the age of 5 years.

The coordinator said all the necessary arrangements should be ensured for high quality and effective anti-polio campaign that could set a benchmark for rest of the 2019 campaigns.  "We must strive to boost immunity of every child and simultaneously aim to prevent the virus from movement," he said.

With this, another couple of polio cases emerging in tribal districts, the count of total polio cases in tribal districts during 2018 increased to 6. Five polio cases emerged in Bajaur and one polio case in Khyber.

Meanwhile, paramedics called off their boycott of the polio campaign being launched on 21 January, after successful talks with the health officials. The talks were held on the directives of the K-P Health Minister Dr Hisham Inamullah Khan.
COMMENTS
Comments are moderated and generally will be posted if they are on-topic and not abusive.
For more information, please see our Comments FAQ