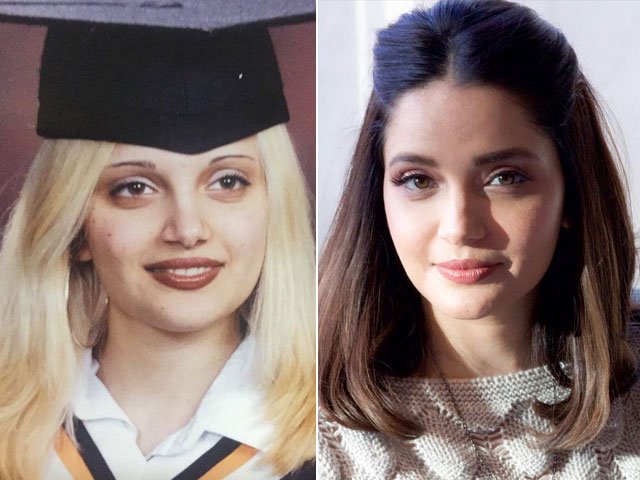 ---
Barely two weeks into the new year and the social media challenges have already begun.

The #10YearChallenge is the latest trend for those looking to do a little humble bragging through some light-hearted humour.

The challenge goes by many names: The #HowHardDidAgingHitYou challenge, the ageing challenge and #GlowUp challenge, though the trend has picked up the most speed as the #10YearChallenge.

From celebrities to your closest friends, the Instagram challenge sees participants simply post two images, side by side, one taken in 10 years ago and the other recently.

Here are our favourite celebs taking on the latest trend!

1. Armeena Khan

https://www.instagram.com/p/Bsqej-iD0N-/

"My High School Graduation Photo," the Janaan starlet posted a picture of her 10 years younger self. And may we say, she's rocking that blond!

2. Aamna Babar

https://www.instagram.com/p/BsqrRQgnfy_/

Girl, that glow up is real!

3. Annie Khalid

https://www.instagram.com/p/BspZEaYniaZ/

The Mahiya singer was embracing the curls ten years ago as well!

4. Shaniera Akram

https://www.instagram.com/p/BssDZhBnoS9/

"At least cameras got better, not sure I did!," the activist wrote.

5. Sonam Kapoor

https://www.instagram.com/p/BsrDsqwlNuk/

Kapoor shared the picture from her Delhi 6 days - and it looks like she hasn't aged a day!

6. Diana Penty

https://www.instagram.com/p/BspkR1mAr2u/?utm_source=ig_embed

"Some things don't change...like the B/W filter," wrote the Cocktail starlet.

7. Anne Hathaway

https://www.instagram.com/p/Bsqg37JH5zf/

Check out 2009 me trying so hard not to do anything wrong. Check out 2019 me doing what feels right," the Princess Diaries star captioned image from Golden Globe Award shows ten years apart.

8. Madonna

https://www.instagram.com/p/Bsp9stnhkgj/

Can you tell the difference? Because we surely can't!

9. Reese Witherspoon

https://www.instagram.com/p/BspBO22Dis9/

"Time sure does fly when you are having fun!," she wrote.

10. Caitlyn Jenner

https://www.instagram.com/p/BsqZBpmhz71/

She wrote, "Now THAT is a #10YearChallenge Be authentic to yourself 💜."

Have something to add to the story? Share it in the comments below. 
COMMENTS
Comments are moderated and generally will be posted if they are on-topic and not abusive.
For more information, please see our Comments FAQ