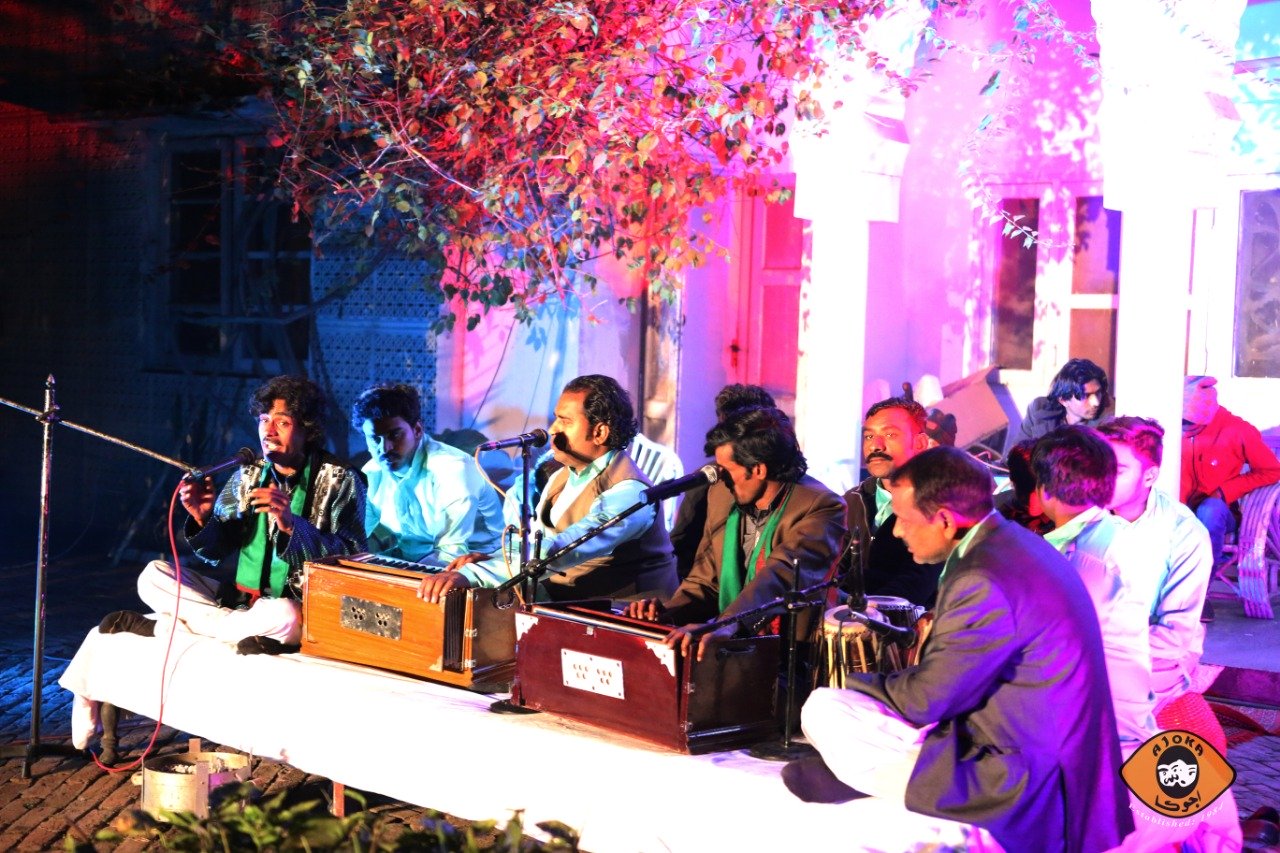 ---
LAHORE: Ajoka Theatre's 'Absolute Qawwali' session had the audience engrossed last Saturday, with soul-stirring Sufi music and poetry. The event was the second programme in the Lahore-based institution's cultural evening series, stated a press release.

'Absolute Qawwali,' held at Ajoka Theatre's office, had music enthusiasts, aspiring actors and students, young and old, come together for a memorable night. The third generation of the Sansria gharana, along with renowned qawwali group Khawar Ali Qawwal Party (headed by Ustad Faiz Ali Faiz), pleased the crowd with their energetic performances.




The musicians began the show with simple renditions and built up to more traditional, hypnotic tunes. They also presented evergreen qawwalis such as Aaj Rang Hai, Tere Ishq Nachaya and other devotional Sufi numbers from Ajoka Theatre's famous plays Bullah and Dara.

Ajoka's executive director Shahid Nadeem, director Nirvaan Nadeem, actor and activist Faryal Ali Gauhar and other notable personalities from various walks of life were also present at the gathering. The decor and uplifting music gelled well with the pleasant weather, making for an experience truly memorable for all those present.




Nirvaan, the creative mind behind the initiative, thanked the participants, stating that Ajoka Theatre is broadening its horizons by hosting cultural evenings and other activities for the promotion of Pakistani talent. He added that the second session of Ajoka's acting master class - titled 'Art of Acting' - has also begun. Selected students from its first session will showcase what they learn in a major TV show soon.

18 years on, Qawwal Aziz Mian's memory lingers on

Qawwalis have always remained an integral part of our culture and have brought people together, irrespective of their beliefs and traditions. Khawar Ali Qawwal Party has also toured in India, Denmark, USA and UK with Ajoka Theatre and has performed in various festivals too.

Have something to add to the story? Share it in the comments below.
COMMENTS
Comments are moderated and generally will be posted if they are on-topic and not abusive.
For more information, please see our Comments FAQ