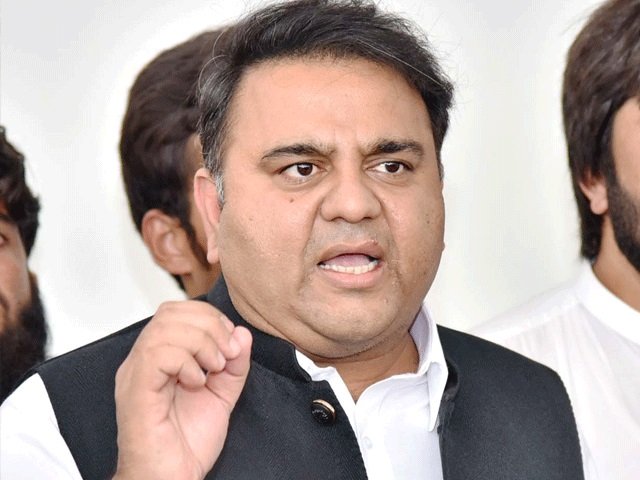 ---
KARACHI: Federal Information Minister Fawad Chaudhry on Tuesday reiterated his demand for removal of the Sindh Chief Minister Murad Ali Shah and arrest of Pakistan Peoples Party (PPP) Co-Chairman Asif Ali Zardari to move forward on a joint investigation team's (JIT) report in the case pertaining to money laundering of billions of rupees through fictitious accounts.

Speaking to the media at Quaid-e-Azam International Airport and the residence of Pakistan Tehreek-e-Insaf (PTI) provincial lawmaker Haleem Adil Shaikh, Chaudhry accused Sindh Chief Minister Syed Murad Ali Shah of "plundering" Sindh's resources.

"Murad is working against the interests of the masses, therefore, we are demanding his resignation," he said. "Zardari and Faryal have taken the people of Sindh hostage. We stand with the people of Sindh because their money is being plundered by a group of people," the minister added.

Chaudhry had arrived in Karachi on a two-day visit. He attended an award ceremony of the Institute of Business Administration (IBA), held a meeting with Sindh Governor Imran Ismail and visited the Muttahida Qaumi Movemnet-Pakistan (MQM-P) headquarters in Bahadurabad.

In his media talks, the information minister criticised Shah. He said that there were poor conditions in the chief minister's own constituency. He added that if the chief minister did not tender resignation, the people of Sindh "will help us" remove him.

When asked about an in-house change in Sindh, he said that a few members of the provincial assembly (MPAs) and PPP leaders have contacted the PTI government for "bringing a change in the province", adding, "It is Sindh's right to become part of the change."

When asked about PPP Chairman Bilawal Bhutto Zardari, he said, "Bilawal is a child and children are apolitical." Referring to the money laundering case involving transactions of billions of rupees through fake bank accounts, Chaudhry alleged that Sindh's funds were sent to Dubai and London.

"When we ask about accountability, they start shouting that democracy is in danger. Poor people are dying of hunger in Sindh and the ruling elite are traveling in planes," he said, adding that the PTI would not let anyone to hold people in Sindh hostage.

Referring to cases against the Pakistan Muslim League-Nawaz (PML-N) leadership, he said, "The PPP should learn a lesson from PML-N which has suffered a blow in Punjab because of its bad governance and corruption. The days of Omni Group and Zardari are now numbered."

Protection of journalists

Addressing the awards ceremony at the Centre of Excellence in Journalism at the IBA in Karachi, Chaudhry said that his ministry was planning to table a bill in the National Assembly for the protection of journalists. He said he was also working on providing a health insurance scheme for working journalists.

On Wednesday (today), the minister will visit the Arts Council of Pakistan.

PPP's rebuttal

Many PPP leaders and ministers criticised Fawad Chaudhry's remarks about toppling the Sindh government and the arrest of the party co-chairman. They said that those demanding resignation of the chief minister must wait for the next general elections in 2023.

Talking to media persons at Sindh Assembly, Barrister Murtaza Wahab, Adviser to the Chief Minister on Information and Law, said if the federal government was sincere with the people of Sindh it should release Rs92 billion to the province, which is currently withheld by it.

He said that Murad Ali Shah was duly elected by the people of the province. The chief minister was committed to serving the people of Sindh. "Moreover, he is not a PTI worker who will resign on any advice," he added.

Brushing aside speculations of a forward bloc, Wahab said, "A viceroy from Islamabad will not be able to do something," adding that all conspiracies against the elected government of Sindh were bound to fail. He said that the masses would "soon be emancipated" from "an incompetent federal government".