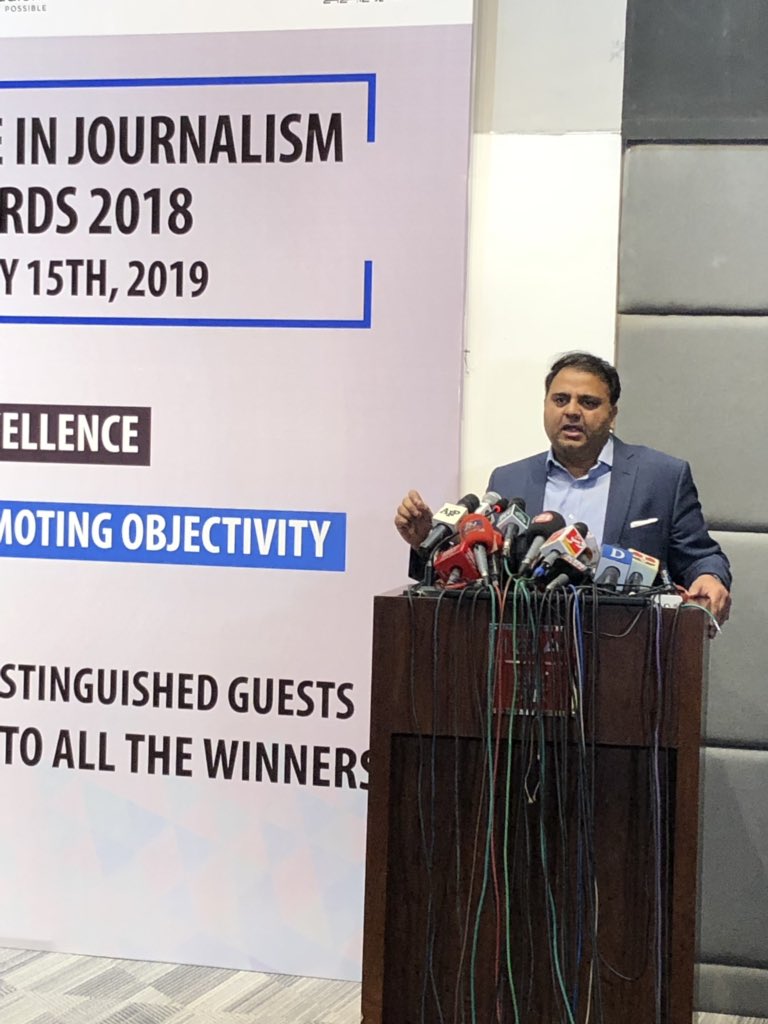 ---
Federal Minister for Information and Broadcasting Fawad Chaudhry has said that his ministry is planning to table a bill in the National Assembly for the protection of journalists.

He was addressing an awards ceremony organised by Centre of Excellence in Journalism at the IBA in Karachi on Tuesday.


We stand by all journalists - Federal Minister of Information and Broadcasting @fawadchaudhry at the Excellence in Journalism Awards | | #atCEJ | #Pakistan | #Journalism | #CEJ | pic.twitter.com/0QOMHrxPw2

— CEJ (@CEJatIBA) January 15, 2019


The information minister said he was also working on providing health insurance to working journalists, and was committed to safeguarding the interests of journalists in Pakistan, according to a statement.

Pakistan remains a country where journalists risk injury, death, kidnapping or detention in their efforts to hold those in power or authority to account.

DEAD & FORGOTTEN: Odds against journalists to get justice in Pakistan

According to a Freedom Network report, at least 26 journalists were killed for their work during the last five years.


According to @pressfreedompk of 26 journalists murdered in Pak during last 5 years for their work, the cases of 16 journalists went to court of which prosecution & trial was concluded in 6 cases & conviction handed in 1 case @khattak63 @adnanrehmat1 #NoImpunity #JournoSafe pic.twitter.com/Z1yvHxnHii

— Digital Rights Foundation (@DigitalRightsPK) November 1, 2018


Similarly, as per the New York-based Committee to Protect Journalists, at least 53 journalists were killed in 2018 worldwide.


In 2018 CPJ recorded 53 journalists killed in connection to their work, the highest @pressfreedom has recorded in three years #ProtectJournalists pic.twitter.com/F3iyNFiZO4

— Committee to Protect Journalists (@pressfreedom) January 10, 2019


The information minister is on a two-day visit to Sindh in a bid to forge a 'grand alliance' against the Pakistan Peoples Party's provincial government.

His planned visit was postponed last month after the Supreme Court warned the government of imposing governor's rule in the province following a joint investigation team report on money laundering through fake bank accounts.