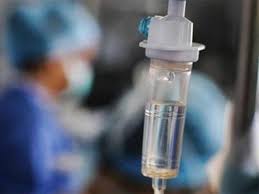 ---
ISLAMABAD: The Federal Government Services Hospital (Polyclinic) treated some 1.2 million people at its outpatient wings, while further 36,694 patients were treated in its wards which have a capacity of just 550 patients.

A hospital official noted that the last year was quite a busy one for them and came with the challenge of managing the limited bed space along with rising patient load.

This was disclosed as the hospital released its annual patient statistics for the 2018 calendar year.

The data showed that as many as 11,646 citizens who travelled abroad last year, were administered vaccines.

The hospital also administered vaccine injections to over 40,100 children during the year.

The morning shift for the hospital's outpatient department (OPD) received 1.069 million patients while the evening shift handled 139,444 patients during 2018. The 36 dispensaries operated by the hospital examined a further 495,010 patients during the year.

These patients were referred to the hospital's various departments for necessary tests and scans. In this regard, the hospital performed 1.94 million different pathological tests. Moreover, 602 endoscopic procedures during the year.

The hospital's blood bank handled 118,888 patients. The radiology department conducted X-rays, ultrasound and other radiological tests for 138,149 patients.

In addition, over 65,300 patients received ECG, ETT and Gama Camera tests from the hospital.

Of the 36,694 patients who were admitted to the hospital, 9,376 patients underwent operations. These included 6,441 major procedures and 2,935 minor procedures.

Commenting on the annual performance of the hospital, Polyclinic Spokesperson Dr Sharif Astori said that the health facility witnessed immense rush throughout the year. Conceding that the hospital faces problems due to a shortage of space, he said that the hospital still managed to provide patients with free medical treatment including surgical procedures and medicines.

Published in The Express Tribune, January 11th, 2019.
COMMENTS
Comments are moderated and generally will be posted if they are on-topic and not abusive.
For more information, please see our Comments FAQ