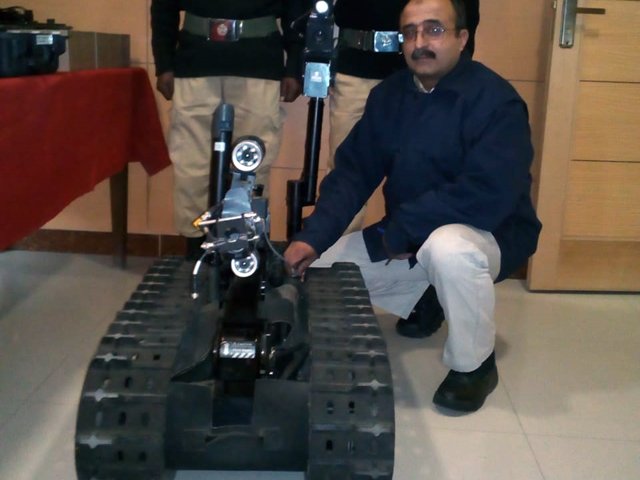 ---
RAWALPINDI: The European Union on Wednesday gave Rawalpindi's Department of Civil Defence a robot worth Rs70 million as a new addition to its bomb disposal unit.

The robot can electronically defuse bombs as well as detecting and breaking circuits of bombs buried under the ground.

The formal inauguration of the bomb disposal unit will be held by the Director General of Civil Defence  Hanif Khattak and Rawalpindi Deputy Commissioner Omar Jahangir next week.




Officials from bomb disposal squad will also test out and demonstrate the use of the technology.

Moreover, a special air conditioned control room has also been built at a cost of Rs2.5 million to house the modern bomb disposal equipment.

First woman gets on Bomb Disposal Squad

It has a standby power supply arrangement, which can power the control room for three days.

The unit is equipped with electronic robots and water cannon guns.

The kit is laced with modern cameras and video surveillance technology which can work in the dark and diffuse all types of manually and electronically operated bombs, including time bombs.




The robot can also save the lives of people trapped in fire and smoke. It can also be operated through an electronic laptop at the office and is effective within a two-kilometer radius.

The kit also has a modern cannon gun to diffuse any explosives through the use of water.

The modern cameras and laptop tells the bomb squad about the nature of explosive devices, hand grenades and mines for as far as 300 kilometers.

According to Bomb Disposal Squad Commander Khalil Anwar, the modern unit can diffuse all sorts of explosives after shifting them to a safe place.

Currently, the range of the unit spans five districts including Islamabad, Rawalpindi, Attock, Jhelum and Chakwal.




According to Civil Defence District Officer Talib Hussain, the unit can also operate under water, fire or smoke and save a lot of precious human lives.

"It can detect any mine explosives as well. In wake of the recent wave of terrorism, we have added five more technicians in Rawalpindi' bomb disposal squad," Hussain said.

He added that the machinery is laced with modern technology and can even diffuse rockets after shifting them to a safe place.
COMMENTS (1)
Comments are moderated and generally will be posted if they are on-topic and not abusive.
For more information, please see our Comments FAQ