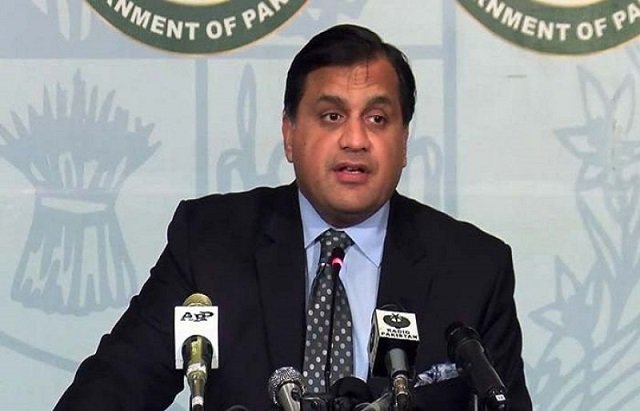 ---
ISLAMABAD: The Foreign Office on Saturday said the continuing bloodbath in Indian Occupied Kashmir (IOK) and unresolved dispute despite the passage of 70 years after the United Nations Security Council resolution was a collective failure of the world.

In a tweet, Foreign Office spokesperson Dr Muhammad Faisal once again called for the establishment of commission of inquiry by the Office of the High Commissioner for Human Rights for investigation into Indian atrocities in occupied Kashmir.

Indian forces martyr four more youth in occupied Kashmir

"Today, marks the 70th year since the UNSC's resolution granting the right to self-determination to Kashmiris was adopted -- the continuing bloodbath in IOK and unresolved Jammu & Kashmir dispute is a collective failure of the world," Faisal said in his tweet.

The spokesperson said that Pakistan would continue to extend political, diplomatic and moral support to the Kashmiris in their legitimate struggle to self-determination.

Separately, talking to the state-run media, Dr Faisal said that Pakistan was highlighting the Kashmir issue at every available forum, including the United Nations General Assembly. He added that the people of Kashmir wanted to resolve the dispute as per the UN resolutions and their aspirations.

After pellet guns, Indian forces to unleash new lethal weapon on IoKprotesters

Meanwhile, Kashmiris on both sides of the Line of Control and the world over observed the Right to Self-determination Day, on Saturday to remind the world community that the UN resolutions on Kashmir remained unimplemented even after the passage of more than six decades.

On this day in 1949, the United Nations Security Council adopted a resolution, acknowledging the Kashmiris' right to self-determination. However, it is unfortunate that the world body has so far failed to implement its resolutions, resulting in the continued sufferings of the Kashmiri people.
COMMENTS
Comments are moderated and generally will be posted if they are on-topic and not abusive.
For more information, please see our Comments FAQ