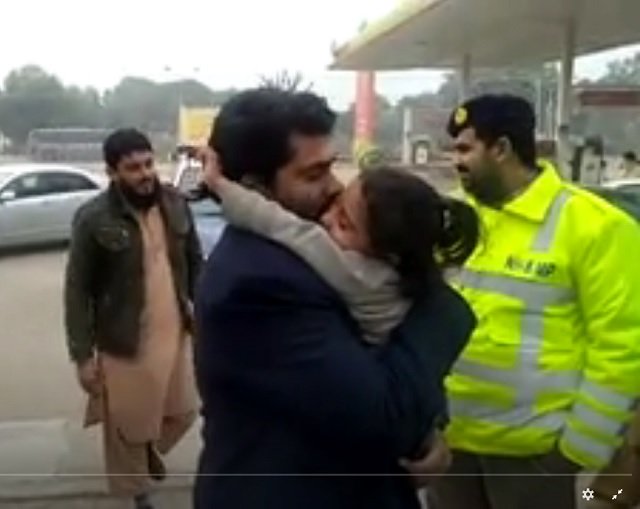 ---
MULTAN: The National Highways and Motorway Police (NHMP) reunited a baby girl with her parents at Beat-18 here on Saturday.

According to NHMP spokesperson Gulzar, a family was traveling to Lahore from Muzaffargarh. The baby girl, Hadia, daughter of Dr Muhammad Nasir, went to washroom and missed the passenger bus she was traveling in with her parents.

The police later found the baby girl and handed her over to her parents. Father of the girl hailed performance of the NHMP for a quick action.



VIDEO: EXPRESS

Last year, the Lost and Found Team reunited mute child with his family in Lahore. His mother, who works as a domestic help, was devastated when her seven-year-old mute son, who went to a nearby shop, didn't return home.

The family looked for Mehmood everywhere but failed to locate him.

Lost and Found Team reunites mute child with family

Later, Police Helpline 15 was called and the staff transferred his call to Lost and Found Team (LFT) of the Punjab Safe City Authority (PSCA) Qurban Lines. The team inquired about the appearance, features, dressing and other details of the child and started searching for him. They also dispatched information about the victim to the force.

After four hours of continuous efforts, the LFT received information about a missing child. A citizen called to inform them that he had spotted a minor child on a street beside Shell petrol pump in Factory Area. The LFT team called SHO Factory Area, who reached the spot and shared the details of the child. He told them that the victim is unable to speak.

The team asked SHO to speak the child's name before him. When SHO asked if Mehmood was his name, he nodded his head, yes. The LFT staff informed Ahmed.