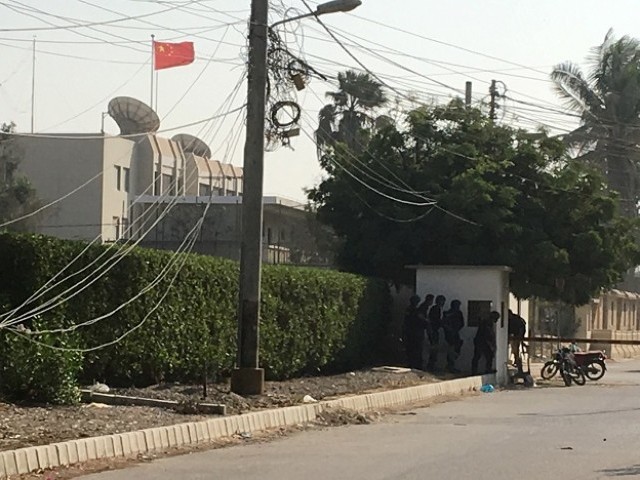 ---
KARACHI: The counter terrorism department (CTD), having failed to find any evidence and arresting those responsible for the attack on the Chinese Consulate last month, submitted on Friday a report before the administrative judge of the anti-terrorism courts (ATC) requesting that the case may be closed by declaring it A-Class. The administrative judge, however, transferred the case to ATC-2 for further hearing.

According to the report, the flag of Balochistan Liberation Army (BLA) was recovered from the terrorists who were killed in the attack.

The investigation officers presented the material BLA was running on social media as evidence in the report which mentioned that none of the accused have been arrested as yet. Aslam alias Achoo has been mentioned as not arrested in the report. When asked by the court, the investigation officer said that they have heard that Aslam alias Achoo had been killed in Afghanistan but it hasn't been confirmed as yet.

The report stated that the slain terrorist, Abdur Razzaq's national identity card (NIC) and Balochistan agriculture department cards were recovered. The Balochistan government was requested for the criminal record of the nominated accused but the record has not been received as yet. Four Kalashnikovs, two improvised explosive devices (IED), detonators, hand grenades, bullets and other explosive materials were also found.

'Mastermind' of Chinese consulate attack killed in Kandahar: BBC

Baloch nationalist leader, Khair Bukhsh Marri's son, Hyrbyair Marri, has been included the list of accused, along with Rehman Gul Commander Sheikho, Commander Munshu, Commander Sherol and others. The case is registered under the Anti-Terrorism Act, Sindh Weapons Act and other acts.

Sentence awarded
A special ATC on Friday awarded a sentence of 27 years imprisonment and a fine of Rs650,000 to Syed Waqar Shah, who was found guilty in cases pertaining to police encounter, attempt to murder and possession of illegal weapons.
The case against Shah was registered in Awami Colony Police Station. According to police, Shah, along with an accomplice, snatched Rs99,000 from a citizen while leaving a bank. Shah was arrested in a police encounter but his accomplice, Kala Shah, escaped and is still on the run. The court issued an arrest warrant against accused, Kala Shah.