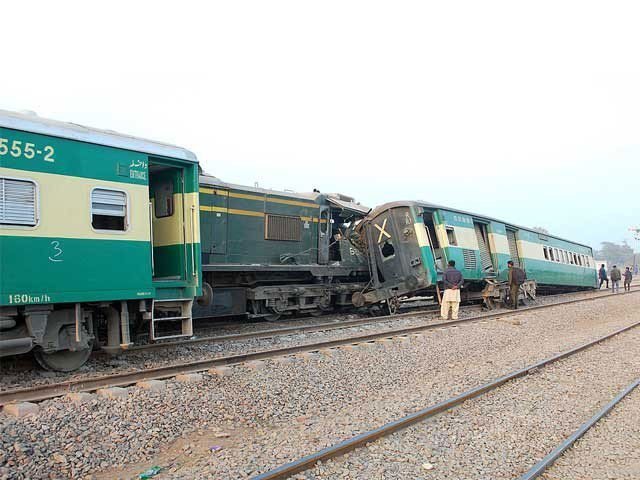 ---
FAISALABAD:

At least six Pakistan Railways (PR) officials have been suspended after three coaches of Shalimar Express derailed in Faisalabad on December 24, Express News has learnt.

Sources said that Pakistan Railways Chief Executive Officer Aftab Akbar had appointed Railways Federal Government Inspector Yusuf Laghari as the inquiry officer and had ordered him to submit a detailed report regarding the incident.

Those suspended include Head Train Examiner Dilawar Ali, Engineering Department's Tahir Shahbaz, Locomotive Inspector Rana Shaukat Ali, Signal Inspector Muhammad Rafique and Railways Traffic Inspector Muhammad Aslam.

Sources maintained that all the suspended officers belonged to Faisalabad region and that action was taken after an initial inquiry.

On December 24, three bogies of the Karachi bound Shalimar Express derailed near Risalewala area of Faisalabad in which one passenger hailing from Gujranwala died and several others were injured. During the incident, a Millat Train engine that was standing stationary at the crossing line was also damaged.

Rescue teams reached the area, while railways staff restored train operations after hectic efforts.

Last week, Federal Minister for Railways Sheikh Rashid told media the federal government is launching 20 new trains and three tourist trains in the country by next year, while it is also planning to start two VIP trains between major cities.

He maintained that Pakistan Railways was planning to introduce passenger trains and trade trains between various economically vibrant cities, which would boost economic activities across the country.
COMMENTS
Comments are moderated and generally will be posted if they are on-topic and not abusive.
For more information, please see our Comments FAQ