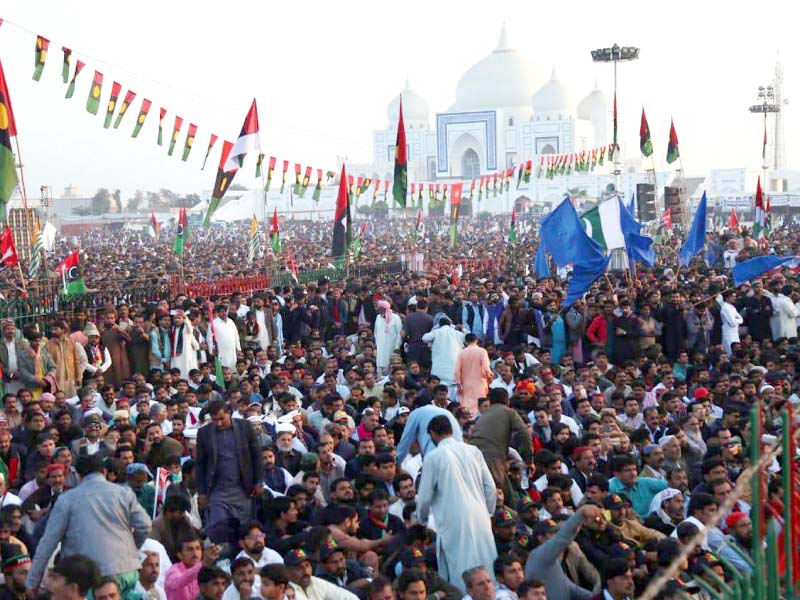 ---
HYDERABAD: On a cold and breezy day in Larkana on Thursday, the large compound of the Bhuttos' mausoleum, the resting place of two former prime ministers Zulfikar Ali Bhutto and his daughter Benazir Bhutto, at Garhi Khuda Bakhsh brimmed with people.

This flock of the Pakistan Peoples Party's - rather the Bhutto family's - political followers had gathered for the year's second annual commemoration of the death anniversaries of Zulfikar and Benazir - the latter exactly 11 years ago in Rawalpindi on the same date.

Streams of people kept entering and leaving the mausoleum throughout the day, showering rose petals, praying for the departed souls, paying tribute or remembering their political struggles. "Unlike any other political leader in Pakistan's history, the graves of Bhuttos draw a flood of their supporters to commemorate their martyrdoms in Garhi Khuda Bakhsh on the day on which they were killed," said Saleem Akhund, who travelled from Noshehro Feroze, to the mausoleum, referring to April 4 and December 27, the dates of the death anniversaries of the father and the daughter.

Although many people came to the place themselves, the PPP had also arranged transport for the people in all districts of Sindh for its public meeting which was held in the mausoleum's compound in the afternoon.

The death anniversary commemoration began with a Quran Khuwani.

"The people may criticise and disapprove of the PPP's governance, rather bad governance in Sindh, during the last 10 years but this doesn't affect the people's affinity with Zulfikar Bhutto and Benazir Bhutto," said Inayat Talpur, a resident of Tando Allahyar, recalling the political struggles and bravery of the two for facing military dictatorships and not bowing before the rulers despite threats to their lives.

The PPP's chairperson Bilawal Bhutto Zardari, co-chairperson Asif Ali Zardari, their family and other party leaders also paid a visit to the graves of Bhuttos before arriving at the stage of the public meeting.

According to the police, 28 SSPs and 76 ASPs headed the security arrangement with a deployment of around 7,000 policemen and 700 policewomen. The vehicles carrying the public were stopped more than a kilometer away from the mausoleum. The people moved past the walk-through gates, placed along the four entrances, to enter the mausoleum. The control rooms, set up at the offices of DIG and SSP Larkana besides Garhi Khuda Baksh, monitored the activity through the CCTV cameras.

Although some groups of people held token protests, no untoward incident was reported. Some people staged a demonstration as the local government minister Saeed Ghani reached the area. The people demanded development works in Garhi Khuda Bakhsh, a small rural town in Larkana.

A number of poets and writers also paid visit to the mausoleum.

Published in The Express Tribune, December 28th, 2018.
COMMENTS
Comments are moderated and generally will be posted if they are on-topic and not abusive.
For more information, please see our Comments FAQ