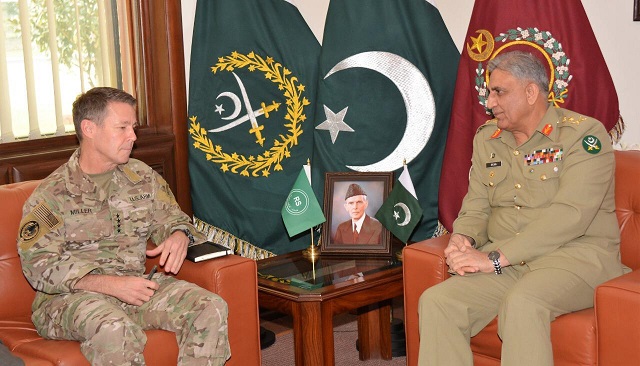 ---
The commander of NATO forces in Afghanistan agreed with Chief of the Army Staff General Qamar Javed Bajwa that only an Afghan-owned and Afghan-led inclusive process can lead to peace in the war-torn country, said a statement by the Inter-Services Public Relations (ISPR).

Commander Resolute Support Mission General Austin Scott Miller and the army chief unanimously agreed on the importance of a political solution to the Afghan conflict – now in its 18th year.

The two also reaffirmed continuing counter-terror operations and efforts against terrorist elements and to ensure effective border management.

Pakistan rules out Indian role in Afghan endgame

General Bajwa also stated that the country is committed to efforts for peace in Afghanistan as it is important for peace in Pakistan, added ISPR.

Miller assumed command of NATO forces in Afghanistan in September, arriving as Washington faces growing questions over its strategy to force the Taliban into talks to end the 17-year conflict.

Miller, former commander of the US military's Joint Special Operations Command, took over at a time of mixed hope and fear for the Western-backed government in Kabul.

Russia backs Pakistan's effort for Afghan settlement

The United States is now a year into its strategy of stepping up pressure on the Taliban by increasing airstrikes and sending thousands of more troops to train and advise Afghan forces, but clear signs of success have so far proved elusive.

Civilian casualties are running at record levels, there have been repeated attacks on major cities such as Kabul and Jalalabad and while the Taliban have not managed to take any major urban centres, they control large areas of the countryside.

Washington has accepted that a purely military victory is not possible and has focused on forcing the Taliban to the negotiating table.