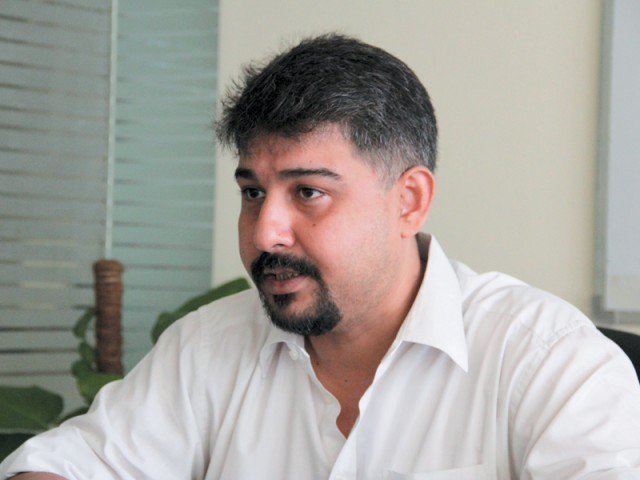 ---
KARACHI: Former member of the National Assembly (MNA) from Muttahida Qaumi Movement-Pakistan (MQM-P) Syed Ali Raza Abidi was shot dead by unidentified assailants in Karachi's upscale Defence Housing Authority (DHA) neighbourhood on Tuesday.

Armed motorcycle riders opened fire on his vehicle outside his residence at Khayaban-e-Ghazi in DHA Phase-V, SSP South Pir Mohammad Shah said.

Police, after cordoning off the area, launched a search operation to arrest the culprits. Forensic experts and other investigation agencies also arrived at the scene to collect evidence.

A CCTV footage later revealed that two armed motorcycle riders intercepted Abidi's car near his residence. The 46-year-old entrepreneur-turned-politician was shot at point blank range.

Abidi was taken to a nearby hospital for treatment. However, he succumbed to his wounds there. Later, his body was shifted to Jinnah Postgraduate Medical Centre (JPMC) for postmortem.

He received two bullets each on his neck and torso, according to rescue sources.

Taking notice of the deadly attack, Sindh Chief Minister Syed Murad Ali Shah directed Inspector General Police (IGP) Syed Kaleem Imam to submit a report at the earliest. The DIG South was then ordered to submit a detailed inquiry report into the incident.

The former MQM-P leader was an active social media user and had a strong following on Twitter. Last time he took to the micro-blogging website only four hours before his assassination, he strongly criticised the ruling PTI for becoming a mouthpiece of National Accountability Bureau (NAB).


The counter press conference by PTI is just repetition of what they have been alleging for the past 5 years on the container. Nothing new nor substantial in reply to PMLN's presser, except that now PTI is officially speaking on behalf of NAB Courts.

— Syed Ali Raza Abidi (@abidifactor) December 25, 2018


He also shared his former party's success and PTI's dismal performance in the recently held local government polls in Karachi.


All in 4 months of General Elections. https://t.co/meGF02uX3G

— Syed Ali Raza Abidi (@abidifactor) December 25, 2018


In September, Abidi had announced his resignation from MQM-P's basic membership citing "personal reasons" after the party ignored him in allotting ticket for NA-243 by-election following his defeat at the hands of Prime Minister Imran Khan in July 25 general elections.

Ali Raza Abidi quits MQM-P for not being allotted ticket

Abidi did not hand in his resignation to the party's office-bearers directly. Instead, he posted a hand-written resignation letter on social media.

Condolences and condemnations

Prime Minister Imran Khan expressed deep sorrow over the sad demise. Pakistan peoples Party (PPP) chairperson Bilawal Bhutto Zardari also condemned Abidi's murder, expressing his grief.

Pakistan Muslim League-Nawaz (PML-N) leader Ahsan Iqbal also expressed sorrow over Ali Raza Abidi's assassination. "There should be no space for violence in politics," he added.

Sindh Governor Imran Ismail also condemned the assassination and ordered an inquiry into the incident.

Senator Saeed Ghani of PPP expressed deep sorrow over the sad demise. He also revealed that he had several meetings with Abidi, who he added was about to join the ruling party in Sindh before the 2018 general elections.


Really sad to hear about Ali Raza Abdi @abidifactor. Had many meetings with him which we both didn't share with media. He was about to join PPP before GE 2018.
May God give their parents courage to bear this irreparable loss.
Inna lilahe wa ina ilehe rajeoon pic.twitter.com/Gm16DcxQjn

— Senator Saeed Ghani (@SaeedGhani1) December 25, 2018


MQM-P chief Khalid Maqbool Siddiqui, expressing his grief over the sad demise, said it was difficult to believe Abidi was no longer among us. He said Abidi and his family had a long association with the party.

Terming Abidi's assassination a conspiracy to disrupt Karachi's peace, Siddiqui demanded high-level probe to unmask those behind the murder.

Karachi Mayor Waseem Akhtar also expressed deep sorrow over the incident, saying every MQM-P worker and office-bearer was standing with the bereaved family in this hour of need.

He said several party leaders had received threats, which can create an atmosphere of uncertainty in the city. Akhtar urged the government to ensure safety of all political workers.

Senior politician Dr Farooq Sattar also demanded immediate arrest of Abidi's murderers. The latest wave of target killings in Karachi raises serious questions about performance of the government, he added.

Life in focus

Abidi's affiliation with MQM goes back to 1988, when he was a student of SM Commerce College. He distanced himself from politics after a crackdown on the party.

Although he went to the United States for his undergraduate degree in science and business management from Boston University, he had once said that he was in touch with what was going on back home. "It was disturbing at time and I felt helpless."

After coming back in 1998, he chose to be an entrepreneur – he was part of distributing Walls ice cream, and later joined the seafood processing business run by the family. He also opened a restaurant, Biryani of the Seas (BOTS), that soon become very popular among the city's restaurant goers.

Abidi's father, Syed Ikhlaq Hussain Abidi, was also actively involved with the MQM and was an MNA from NA-250.

Abidi jumped back into active politics in 2008, and formed the Professionals Research and Advisory Council (PRAC) for MQM.