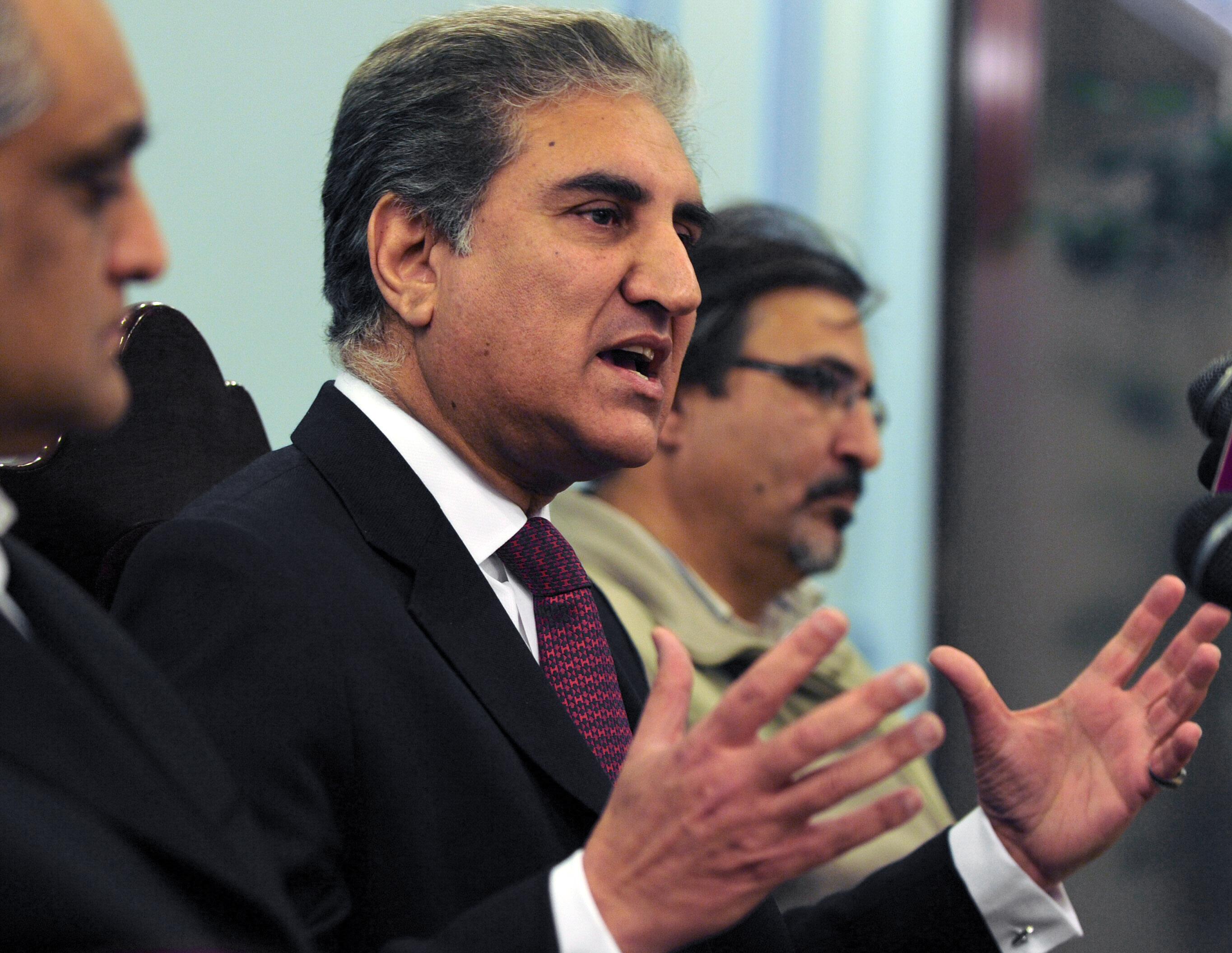 ---
KABUL: Foreign Minister Shah Mehmood Qureshi on his maiden visit to Tehran met top Iranian officials where both sides reaffirmed the need to bolster bilateral relations.

Qureshi along with Foreign Secretary Tehmina Janjua arrived in Tehran to hold talks with Iranian Foreign Minister Javad Zarif as a part of the government's policy of outreach in the neighbourhood.

FM Qureshi held detailed talks with his Iranian counterpart on strengthening the already close bilateral relations.

The two leaders also highlighted the need for improved people-to-people ties and cooperation as well.

Qureshi said Prime Minister Imran Khan wants to strengthen ties with the government of Rowhani in diverse fields with emphasis on expanding economic cooperation.

Zarif doubled down on Iran's commitment to deepen relations with Pakistan in trade, investment, connectivity and border management.

The two sides also exchanged views on the evolving regional and international situation.

Qureshi sets out to strengthen regional ties

The two foreign ministers also discussed the recent developments concerning peace and reconciliation in Afghanistan and on the ways to strengthen cooperation in supporting an Afghan-led and Afghan owned peace process.

Earlier during the day, the foreign minister visited Kabul where he met his Afghan counterpart and President Ashraf Ghani.

According to a Foreign Office (FO) statement, the foreign minister reiterated support for an Afghan-owned and Afghan-led peace process in Afghanistan.

Qureshi discussed further strengthening of bilateral relations and the recent developments on the peace process after the meeting in Dubai in which the United States and United Arab Emirates also participated with President Ashraf Ghani and Afghan Foreign Minister Salahuddin Rabbani.

According to the FO, Qureshi briefed the Afghan leadership on the recent efforts for peace and reconciliation in Afghanistan. He further apprised them on Pakistan's efforts for establishing synergy among other regional and international stakeholders to facilitate an intra-Afghan dialogue.

The moot also focused on ensuring long-term peace, stability and strengthening closer and effective linkages for greater connectivity, enhanced trade and exploitation of huge untapped natural and human resources in the region.

"The two countries, with their strategic locations, were a bridge for surrounding regions," stated FO statement. Therefore, deepening bilateral cooperation was Pakistan's priority.

FO to host two-day conference to attract foreign investment

Elaborating further, he said that "Afghanistan-Pakistan Action Plan for Peace and Solidarity is the most effective framework that provides practical avenues to address issues of mutual interest".

On what has been Qureshi's third visit to Afghanistan after assuming office, he underscored constructive engagement and agreed to take joint steps for furthering bilateral ties and coordination against terrorism.

The visit, though pre-scheduled, happened a day after the Afghan President appointed two Pakistan opponents on key security positions.

Talking to media before his departure, Qureshi said Pakistan wants peace and stability in the region. He said aim of his visit is to take the friendly countries into confidence on recent developments in the region.

Qureshi said all regional forces would have to take joint responsibility for the sake of lasting peace and development in the region.
COMMENTS
Comments are moderated and generally will be posted if they are on-topic and not abusive.
For more information, please see our Comments FAQ