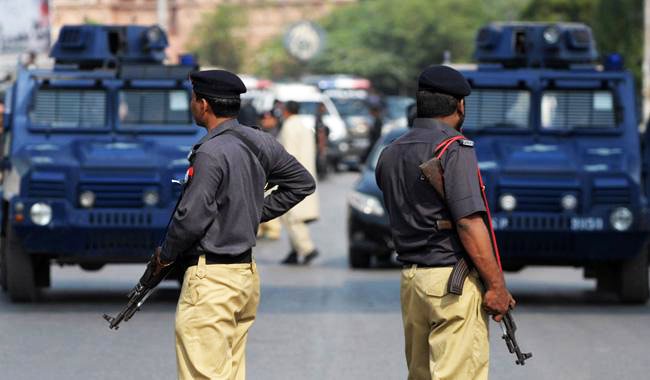 ---
KARACHI: Hardly two days after he assumed charge, the Sindh government has transferred the acting Inspector General of Police, Aftab Pathan, who had been given temporary charge of the post in the absence of IGP Dr Syed Kaleem Imam.

According to a fresh notification issued by office of the chief secretary, the charge of IGP has now been given to Special Branch Additional IG Dr Waliullah Dal.  Dr Imam has left for Dubai to attend a five-day workshop, 'Forensic Management and Forensic Standards Working Group', being conducted by the United Kingdom Accreditation Service.

Controversial transfer?

The IGP's five-day leave and the sudden transfer of his successor [AIG Aftab Pathan] stirred a controversy, with some sections of the media linking it to Pakistan Peoples Party (PPP) leader Asif Ali Zardari and his sister Faryal Talpur's appearance in the banking court today [Friday], amid fears that they may be arrested.

Reports circulating in the media suggested that AIG Aftab Pathan, who is a far less obliging person, was transferred given the upcoming volatile situation in the province. "PPP leadership has conveyed to workers and leaders to reach the banking court at the time of hearing. The situation may become volatile if Zardari and his sister are arrested.  This is why the Sindh government has revised its decision and appointed a softer person to look after the IGP's post till Dr Kaleem Imam returns," said a senior police officer.

Official rebuttal

Meanwhile, officials in the chief secretary's office, which issued the transfer order, refuted these reports. "The notification of Aftab Pathan was issued by mistake. The chief minister had sent three names for the acting charge of IGP, recommending the name of Dr Dal. But the chief secretary's office issued the wrong notification by mistake," explained an official in the services, general administration and coordination department, requesting anonymity. Asked how it was possible to issue a wrong notification, he said, "This happens. We have several precedents."

Original notification

Before leaving the office for the workshop, Sindh IGP Dr Imam, referring to a notification issued by the chief secretary, had said, "In pursuance of the notification issued by the chief secretary on December 17, Dr Aftab Pathan, as officer of Police Service of Pakistan in grade 21 will look after the work of IG Sindh from December 18 to 23."

Despite repeated attempts, no government official was willing to talk on the record about the ad hoc transfers. Senior police officers and bureaucrats termed it a routine transfer posting. "Both officers are professional and honest.  There is no controversy here," said the chief secretary's spokesperson.

What they failed to justify was why the need arose to change the IGP for a mere three days. 

Published in The Express Tribune, December 21st, 2018.