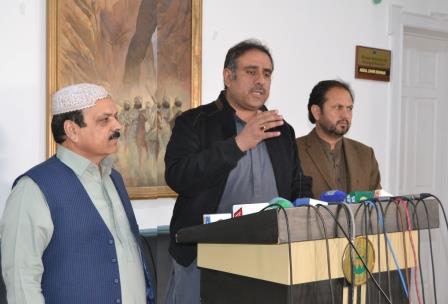 ---
QUETTA: Home Minister Mir Saleem Khosa on Wednesday said more than 100,000 families and over a million livestock had been affected in 20 drought-hit districts of Balochistan but the provincial government was taking solid measures to mitigate the drought effects and providing essential supplies to the stricken families.

He said this during a press conference at Chief Minister Secretariat. Provincial Minister Asad Baloch and Adviser to CM Mitha Khan were also present.

The minister, who also heads the Provincial Disaster Management Authority (PDMA), said around 109,339 families and 1,756,578 heads of cattle were affected in 20 districts of the province following the recent drought.

Govt gears up to help people facing drought

Balochistan chief minister has released a special package of Rs500 million for drought-stricken areas, he said, adding that the United Nations teams were busy in the survey of affected areas. Moreover, he said the provincial government would pursue Centre for assistance in tackling this crisis.

Khosa said: "As many as 109,339 families and 1,756,578 livestock animals were affected during the long-lingering drought in Balochistan. But taking immediate action on alarming situation Balochistan chief minister has imposed health emergency in all affected regions and released package of Rs500 million".

He highlighted that the province is deprived of rain for many years, which allowed drought to grip many parts of the province. The government cannot fight with nature, he added.

The government of Balochistan has been making earnest efforts to provide relief in the drought-hit areas of the province, Khosa said, adding that during a meeting to review the situation in drought-hit areas, chaired by Balochistan CM, various decisions were taken regarding relief operations in the 20 districts of the province.

"The environmental and health experts of United Nations are busy in doing the survey of 14 districts of Balochistan under the grip of drought while provincial government has been establishing free medical camps and dispensaries in these districts," said Khosa.

Home minister rebuffs fatality reports



He also said the disaster management committee comprising officials of various departments would be established that would do short-term, mid-term and long-term planning.

To a query regarding deputy commissioners' drought assessment report, Khosa said the government has received 20 reports and waiting for further reports after which under available resources the provincial government would commence relief operations.

Answering another query on provincial government's package, provincial Minister Asad Baloch said keeping in view the need of affected families, the government was making arrangements to provide a full package but initially, the package would be of up to Rs25 to Rs30 thousand per family.
COMMENTS
Comments are moderated and generally will be posted if they are on-topic and not abusive.
For more information, please see our Comments FAQ