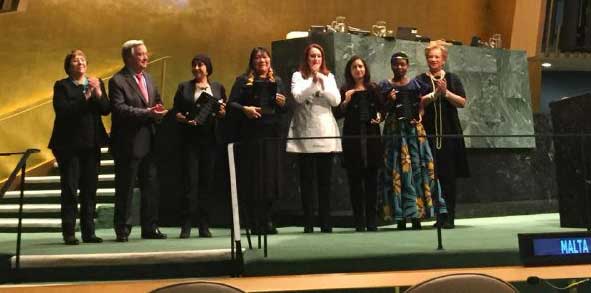 ---
Social activist Asma Jahangir was posthumously awarded the UN Human Rights Prize 2018 on Monday at a ceremony at UN Headquarters in New York.

Asma's daughter Munizae Jahangir represented her at the ceremony. She said she was sure her mother would have liked to share her award with human rights defenders across the world and with the women of Pakistan whom she spent a lifetime defending.

Munizae's speech on her mother can be heard here:


On the 70th anniversary of the Universal Declaration of Human Rights, join us for the 2018 UN Human Rights Prize awards. Among the winners are @RebecaGyumi, Joênia Wapichana, @FrontLineHRD & @Asma_Jahangir (potshumously)#UN4All https://t.co/ekkjkPO91N

— UN Web TV (@UNWebTV) December 18, 2018


The UN Prize in the Field of Human Rights is an honorary award given to individuals and organisations in recognition of outstanding achievement in human rights. Every five years, prize winners are chosen by a special committee mandated by the UN General Assembly.

This is the tenth award of the prize, coinciding this year with the 70th anniversary of the Universal Declaration of Human Rights.

Asma Jahangir first came to the limelight when as an 18-year-old in 1971 she filed a petition in the courts to challenge the arrest of her father Malik Ghulam Jilani by Pakistan's dictator at the time General Yahya Khan. Resulting in a landmark judgment, the Supreme Court declared martial law illegal and Yahya Khan an usurper.


Congratulations to the winners of the @UN Human Rights Prize 2018: @RebecaGyumi of #Tanzania; Joênia Wapichana of #Brazil; @FrontLineHRD of #Ireland & @Asma_Jahangir (posthumously) of #Pakistan. Your courage is an inspiration to millions around the world #StandUp4HumanRights pic.twitter.com/ad6QAmiqaa

— UN Human Rights (@UNHumanRights) December 18, 2018


Asma held a prominent position as a lawyer and human rights activist, especially for the rights of women and minorities in Pakistan. She was appointed the United Nations Rapporteur for Human Rights in Iran on September 30, 2016, and held the position till her death. She was also one of the founding members of the Human Rights Commission of Pakistan (HRCP) since it was established in 1987, and served as its Secretary General until 1993. That same year, she became HRCP's chairperson, but later resigned when she decided to contest the election for the SCBA presidency.

Asma's life-long struggle for democracy also led to periods of incarceration and house arrest. In 1983, she was imprisoned for participating in the Movement for the Restoration of Democracy during the regime of General Ziaul Haq. She was later put under house arrest during the Lawyers Movement in 2007.

Asma Jahangir termed symbol of resistance

This year's other three winners include Rebeca Gyumi, a Tanzanian activist for the rights of women and girls; Joenia Wapixana (Joenia Batista de Carvalho), an activist for indigenous communities in Brazil; and the Irish organisation, Front Line Defenders, which advocates and works for the protection of human rights defenders.

Jahangir died on February 11 at a private Lahore hospital of cardiac arrest at the age of 66.