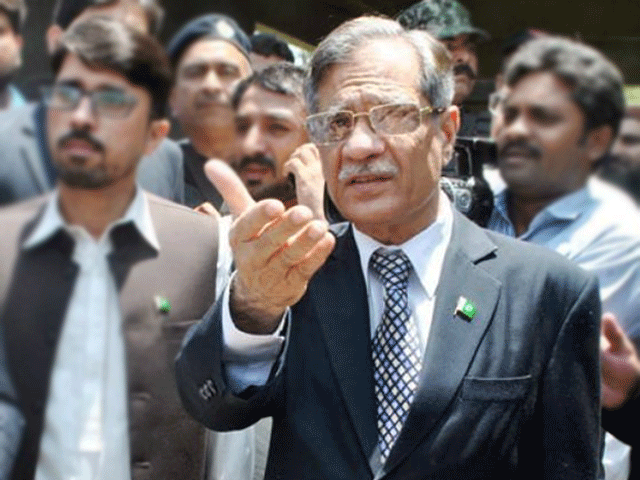 ---
Chief Justice of Saqib Nisar reached Tharparkar on Wednesday for a day-long visit to the drought-stricken are, Express News reported.

Justice Nisar is accompanied Chief Minister Sindh Syed Murad Ali Shah, Justice Faisal Arab, Justice Ijazul Hasan, Chief Justice Sindh High Court Ahmed Ali Sheikh and the Registrar Supreme Court registry Arbab Shehzad.

During the day-long visit, the chief justice is expected to visit Thar coal project and Mithi's district hospital and will asses facilities on offer at the district hospital.

The top judge will also visit Misri Shah Reverse Osmosis RO plant and is expected to leave for Karachi later today.

CJP says Pakistan may run dry in 2025

Justice Saqib Nisar said on Tuesday that Pakistan can face a severe water shortage by 2025 if necessary preventative measures are not taken immediately.

"There is a need to build new dams and to conserve water, as the country can face severe water shortage by 2025. The situation demands immediate steps," CJP said.

The chief justice further added that the water crisis in Quetta is aggravating and people might have to migrate from the provincial capital of Balochistan if the situation is not addressed.  However, he said, the water crisis in Karachi is incomprehensible, adding there were mafias operating in the city.

The top judge, who is set to retire in January, next year also talked about extraction of groundwater by water marketing firms in Pakistan and said these companies are using as much as seven billion gallon water not including water wastage.
COMMENTS (1)
Comments are moderated and generally will be posted if they are on-topic and not abusive.
For more information, please see our Comments FAQ