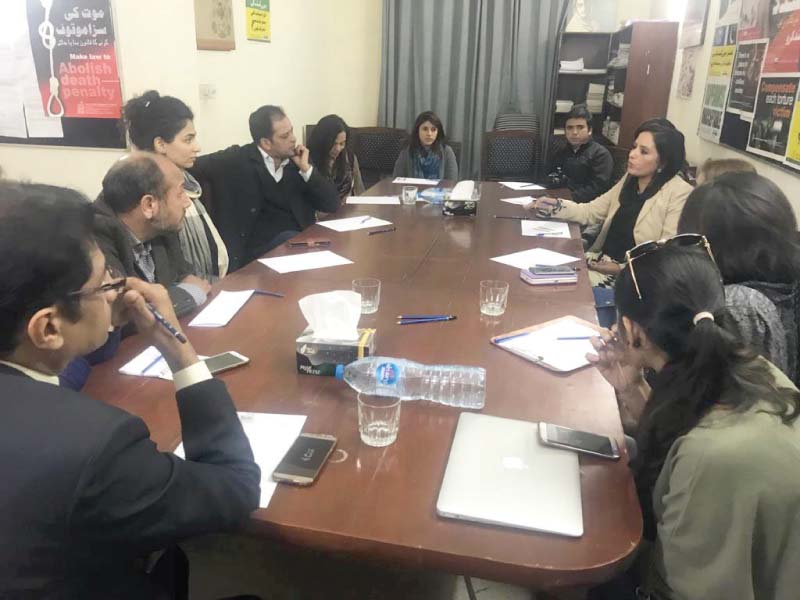 ---
ISLAMABAD: Globally, the #HearMetoo campaign is unearthing powerful stories of resilience and shedding light on gender-based violence issues.

The Pakistan Chapter of The Coalition for Women in Journalism (CFWIJ) - an international support organisation for women journalists with chapters in several countries - organised a roundtable discussion under the same banner to discuss equal assignments for women journalists, and the opportunities and challenges that are a part of the picture.

The discussion included members of the civil society, alongside media practitioners and stakeholders. The topic led to some interesting insight into why women journalists are at times not assigned the same beats and stories as men. And as the interactive session progressed, many remedies to the problem were highlighted.

Speaking at the event, Ayesha Tanzeem, who doubles as a CFWIJ core member and VOA Bureau Chief for Afghanistan and Pakistan, said that while discrimination does exist, at times for an editor it may boil down to doing the story justice.

"Women do not have the same exposure as men when they enter this field. This is an issue with our social structure. A man, for instance, could stay out as long as he wants – but similar liberties are not allotted to women in the household," she said.

Ayesha felt that the issue could be remedied simply by ensuring that women level up their skill set to the same standard as men. "Women can most certainly cover all kinds of beats – and they do. But they need to bring their 'street smarts' to the same level as men," she added.

CFWIJ core member Tanzeela Mazhar, who is also a leading Pakistani journalist, moderated the session, said that the discussion on the gap has to move beyond a blame game. "What we are trying to figure out is how women can be better equipped to deal with the stories they want to cover. For instance, what kind of time and commitment would be required. We as an industry need to help guide them towards beats they can do justice do," she said.

However, the session uncovered that it was not simply a matter of gender discrimination, but that patriarchy in the industry means the exploitation of men. Maira Imran, CFWIJ member and National Press Club Vice President explained that in Pakistan the issue exists because of the role that male reporters are expected to play in an organisation. "They aren't just supposed to bring in stories, they are used for multiple purposes. From getting things done to finding connections that benefit media owners - it's not often just about their stories," she said.

The roundtable was an effort by CFWIJ to create a space that could help find solutions and not just highlight the issues that women journalists face while looking to report on stories that matter. Globally, the network works with hundreds of women journalists.

Published in The Express Tribune, December 6th, 2018.