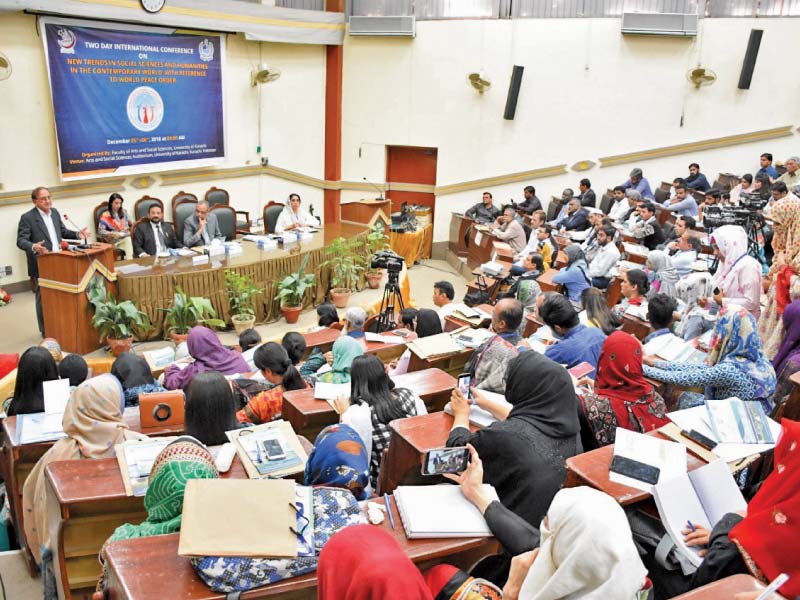 ---
KARACHI: Research in social sciences must be goal-oriented and aim to serve humanity by suggesting ways and means to address social problems. Social sciences provide diversity of opinions hence it could evolve mechanisms that would be helpful in coping with intolerance in society. These views were expressed by Punjab University Professor Emeritus and political scientist Hasan Askari while delivering a keynote address at the University of Karachi (KU) on Wednesday.

The two-day international conference on 'New Trends in Social Sciences and Humanities in the Contemporary World: With reference to World Peace Order' at Arts Auditorium was organised by KU Faculty of Arts and Social Sciences.

Hasan Askari, who is also an independent political consultant, said that social sciences could evolve mechanisms which would be helpful in coping with the intolerance in the society - one of the major reasons for extremism and terrorism.

He added that social sciences represent human efforts of studying and examining each other. Modern world technology has penetrated into our system and is also being used by developed countries to preach whatever they like.

"The social sciences provide diversity of opinion while accessing education as uttermost priority can help in society's development. Europe is the best example in this regard. The continent was once living in a dark age but with advancement of knowledge and industries, they are now dominating the world," said Askari.

Meanwhile, KU Vice Chancellor Professor Dr Muhammad Ajmal Khan said that knowledge was power and if one wanted to be more powerful, they should get more education. "A person must have the ability to think out of the box. An analytical approach, while doing a task, will boost your performance."

Khan said that if a person could not relate research to the society, then it was useless as it would not help the people. He further added that methodology and impact factors are essential for good research. Taking a side and taking a position are two different things and being a researcher, a person must know the difference between them.

Khan said that the current age was of social sciences and the role of social scientists was pivotal for national growth. Social sciences play an important role in identifying societal issues and proposing their solutions.

"It gives significant policy advisories to the policymakers and indeed the outcome of this conference will be to benefit the policymaking process of the country. Nobody can deny the significance of social sciences in the current era but unfortunately it was not given due importance in the past. During the last few decades, a lot of significant work is done in this field which is commendable," said Khan.

Published in The Express Tribune, December 6th, 2018.