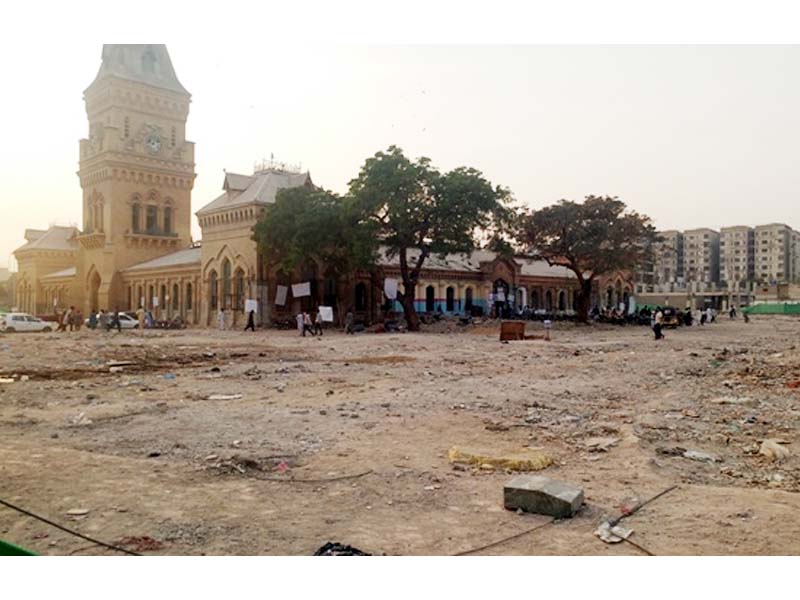 ---
KARACHI: A barrier of green fabric surrounds the bare land around Karachi's Empress Market. There's still some debris scattered across the flattened ground.

The motorists hitting the brakes on the busy adjacent roads turn and look through portions where the cloth has been pulled down. It's not a sight they're used to. Just weeks ago, the bustling Umer Farooqi Market and other commercial centres lined up with tiny shops stood over this land for over half a century.

But the livelihoods of hundreds of vendors were bulldozed on November 8.

Many are unaware of why it was called the Umer Farooqi Market.


The late Umer Farooqi. PHOTO: BILAL FAROOQI/EXPRESS

A legacy

In the late 60s, the authorities decided to rid the vicinity around Empress Market of small-time vendors. It was then that Umer Farooqi, founder and editor of an Urdu daily Aghaz, sat down with the vendors, understood their predicament and decided to take a stand.

Edition after edition, he tenaciously took up their cause. His efforts paid off. The Karachi Metropolitan Corporation (Karachi Municipal Corporation back then), rented out space to them next to Empress Market under the West Pakistan Municipal Committees (Property) Rules of 1962. To express their gratitude, they named the market after the editor who had given them a voice.

The Umer Farooqi market was set up in 1968. The vendors acquired space for "cabins" at the market with the payment of advance rent to the KMC. From 1993 onwards, they have been paying six months' advance rent to the KMC as well as taxes to the provincial government.

The cabins were given the status of shops in 2005 when Niamatullah Khan was the city's mayor.


Umer Farooqi Market Association Joint Secretary Mansoor Ahmed Siddique. PHOTO: BILAL FAROOQI/EXPRESS

Legal tenants

"The government has taken Rs420 million from us so far for 604 shops," says Mansoor Ahmed Siddique, the joint secretary of the Umer Farooqi Market Association, as he shows the receipts.

"In return, we weren't even provided with a roof. We built the market, spent money on its maintenance out of our own pockets," he adds. "I've been here for 50 years. They were charging us rent, electricity bills, income tax, etc. If it was illegal, what were they charging us for?"

Siddique also speaks about the vendors' harrowing experience on November 8. Even tenants who haven't paid their rent aren't treated the way the ones paying their rent six months in advance were evicted.

"All the claims about an advance notice to the shopkeepers are untrue," says Siddique. "We were given three hours to gather our merchandise and move out. How much could we have salvaged? We've suffered immense losses. They razed the market in an hour. It's turned into a graveyard," he laments.


The KMC rent and income tax receipts.

Asmatullah, another vendor, has rolled out a mat on the bulldozed land. There, he and other vendors are sitting in protest.

"There were eight or nine other markets apart from the Umer Farooqi Market. Overall, there were over 1,700 shops here. How can so many shops be vacated in three hours?" asks Asmatullah.

"We are here for 50 years. My grandfather used to pay Rs5 in rent when he opened a shop here. Now, we were paying Rs300. The shops were officially leased out to us. We were paying all charges," he adds.

"The law-enforcement agencies came and told us move out on such a short notice. Then they demolished everything. We're poor. How can we stand up against the government?"


Asmatullah says the vendors were given only three hours to grab their goods and vacate. PHOTO: BILAL FAROOQI/EXPRESS

Blame game

Bashir Siddiqui, the KMC Anti-Encroachment director, maintains that the vendors are portraying themselves as victims but they're not. "They were paying Rs300 in rent. The shops across the road pay Rs50,000. They were making a lot of money," he says. "The KMC approached the courts against this, but the vendors used to obtain a stay order. But now, with the Supreme Court's orders, they can't do anything," he adds.

Whether the vendors will be provided with alternative space or not, the official says that's the mayor's domain. "My job is to demolish only," he says.

Karachi Mayor Waseem Akhtar has indeed promised that the vendors will be relocated. But it's unclear how long that will take.

For now, the vendors are approaching political parties and other stakeholders seeking help. Assurances are all they've received so far.

But that won't feed the families back home and they urgently need to start earning again.

Siddique still remembers how an editor had struggled for them all those years ago.

"We were being dragged off the streets when Farooqi sahib came to our rescue. He sympathised with us and it's because of him that we were here until now," he recalls.

The author is a grandson of

Umer Farooqi

Published in The Express Tribune, December 6th, 2018.
COMMENTS (1)
Comments are moderated and generally will be posted if they are on-topic and not abusive.
For more information, please see our Comments FAQ