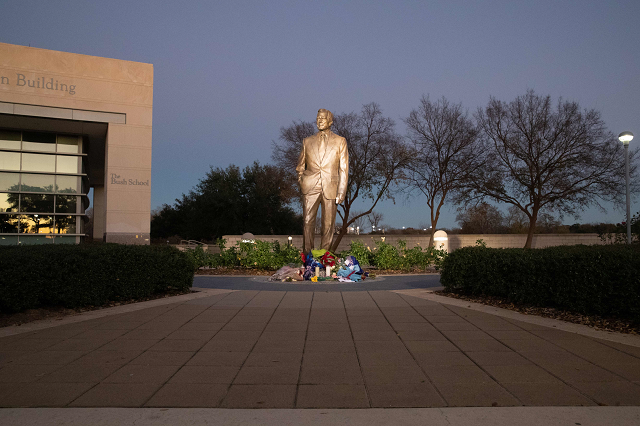 ---
WASHINGTON: Donald Trump announced on Saturday he would send his presidential aircraft to bring the casket of his late predecessor George HW Bush from Texas to Washington, where he will lie in state this week.

Trump said that after flying him home from the G20 summit in Argentina, the Boeing 747 plane would travel on to Houston - part of what he called "a special tribute that (Bush) deserves very much."

"Air Force One will be taking myself and a lot of our people back to Washington," Trump said. "It will then be reset and it will be sent to Houston to pick up the casket of President Bush."

Former US president George H W Bush dies at 94

Bush, who died on Friday in Houston at the age of 94, is to be honored with a state funeral in Washington's twin-spired National Cathedral, with President Donald Trump and his wife Melania to attend, the White House has confirmed.

The late president will first lie in state in the Rotunda of the US Capitol for two days of public viewing beginning on Monday evening, congressional leaders said.

A first solemn ceremony is scheduled for 5 pm (2200 GMT) on Monday, when a military escort brings in the casket bearing the body of the former president.

The public will be allowed to pay its respects from Monday at 7:30 pm until Wednesday at 7:00 am, according to a statement from congressional leaders - the top two Republicans and top two Democrats.

A detailed schedule for the week's services and commemorations is expected later on Saturday.

Trump to attend George HW Bush's funeral: White House

Dozens of world leaders and American dignitaries are expected at the National Cathedral for what will be the fourth state funeral there of a president (following those of Dwight Eisenhower, Gerald Ford and Ronald Reagan). The cathedral has also hosted seven presidential memorial services, according to its website.

A statement from a joint military task force supporting events around the state funeral promised a "first-class tribute," complete with musical units, color guards, honor cordons and body bearers.

The casket will then be flown back to College Station, Texas for Bush's burial.
COMMENTS
Comments are moderated and generally will be posted if they are on-topic and not abusive.
For more information, please see our Comments FAQ