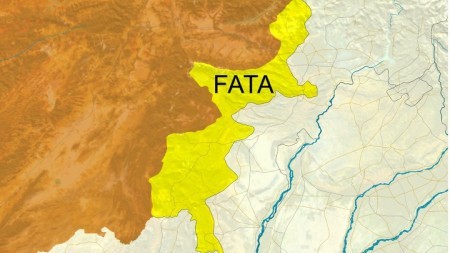 ---
PESHAWAR: President Dr Arif Alvi said on Friday said the provincial and the federal government should ensure that the people of tribal districts get the benefits of merger of erstwhile Federally Administered Tribal Areas (Fata) with Khyber-Pakhtunkhwa (K-P).

"Tribesmen have rendered great sacrifices for the sovereignty the state of Pakistan and the time has come that they get the fruits of merger of Fata with K-P," President Alvi said during a briefing at Governor House.

He called for early completion of the merger process and resolution of the legal and administrative problems occurring during the process.

President Alvi who was on his two-day visit to Peshawar was attending a briefing on Fata-K-P merge, at Governor House on Friday.

The briefing were attended by Governor Shah Farman, K-P Assembly Speaker Mushtaq Ahmad Ghani, Law Minister Sultan Muhammad Khan, Information Minister Shaukat Ali Yousafzai, Senior Minister Atif khan, Minister Ishtiaq Urmar, Chief Secretary Naveed Kamran Baluch and additional secretary of Fata secretariat.

Yousafzai while giving detail of the meeting to the media said that the president was briefed that K-P government has formed a high level committee under Senior Minister Atif Khan for smooth transition of judicial and administrative system from tribal to provincial.

The committee would present its report to the cabinet within 15 days.

Yousufzai said that president was briefed that services of tribal security forces, Levies and Khasadar, will be kept intact. The provincial government will not terminate the services of personnel of these paramilitary forces.

The Levies were part of a security apparatus installed between the former Fata and settled areas known as the Frontier Region (FR). As opposed to the khasadars, referred to as "tribal police" and appointed by tribal authorities, the Levies were appointed by the political administration on merit basis and given arms and ammunition by the government.

Yousufzai said that general elections for provincial assembly seats in erstwhile Fata will be held till May 2019, the information minister said. Process of delimitation in the merged tribal districts is underway for provincial assembly seats and will be completed till end of December 2018.

President Alvi said that federal government has granted five-year tax exemption to merged tribal districts. "The investors should take advantage of tax holiday in the tribal districts to set up industries," he said.

Earlier, the president was also briefed in detail about the Peshawar Bus Rapid Transport (BRT) project, which would be completed by April 2019. The project comprises 68-kilometer long feeder routes where 230 buses will ply to serve commuters.

The president appreciated the project and hoped that it provide quality travelling facilities to the people.

He was informed that BRT will complete after April 2019. President urged the provincial authorities to complete the project in time for the benefit of the people.

Published in The Express Tribune, December 1st, 2018.