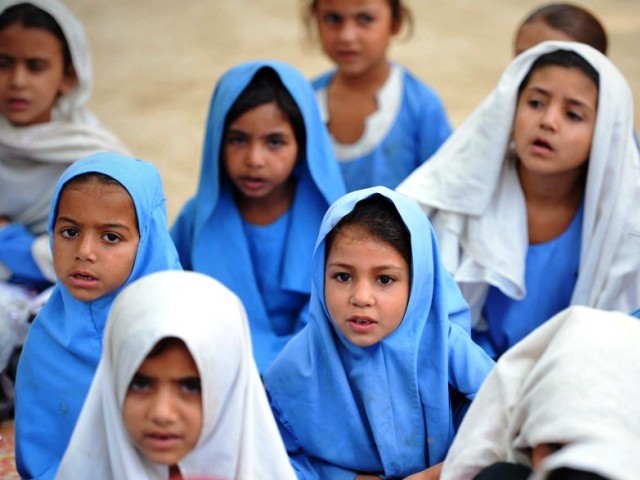 ---
As the incumbent government completing its first 100 days in power with a declared focus on education and on enrolling out-of-school children, a group of education activists on Wednesday called for urgent measures to set up a national, girls' education task force which works to enrol girls in schools.

The call was made as a series of fact sheets surrounding the state of education in Pakistan was launched.

The factsheets have been put together by a number of education-related organisations including the Pakistan Coalition for Education (PCE), Pakistan Youth Change Advocates (PYCA), Social Youth Council of Patriots (Sycop), Idara Baraye Taleem-o-Taraqi (IBT), and Awaaz CDS.

Noting that there are some 22.8 million children out-of-school in Pakistan, the second highest number in the world, the coalition of organisations pointed out that more than half of these children, or some 12 million were girls. They urged the government to make girls' education a priority under its new National Education Plan.

"It is very encouraging to note that during the first 100 days since it came to power, the government has expressed its resolve to address the colossal issue out-of-school children in the country," noted PCE's Zehra Arshad.

PYCA Executive Director Areebah Shahid praised recent efforts of Federal Education Minister Shafqat Mehmood to address the long-awaited request of the civil society to call an inter-provincial meeting of education ministers to chalk out key priority areas for education reforms in the country.

Talking about the factsheets, Umme Kulsoom of Sycop noted that it brings together key data from various government departments and development organisations and puts it on a single page which presents an overview of the situation at both, the national and provincial level.

Moreover, they include key policy recommendations unique to each province.

Marriyum Amjad from Awaz CDS said that net enrolment rate for girls stands at 72 per cent at the primary level but this then falls to 45 per cent at the middle school level and further drops to just 27 per cent at the secondary level.

PM's aide says special focus on girls' education

"This shows that while Pakistan has made strides in the realm of primary education for girls, greater attention and a coherent national policy is required to bridge the gender gap at secondary and higher secondary levels," Amjad stated.

As a first step to address this glaring concern, the coalition of non-governmental organisations urged the federal and provincial governments to form a task force on girls' education and to devise a national education policy.

The activists further demanded that the national spending on education should be enhanced to four-to-six per cent of the gross domestic product (GDP) with the ratio rising by a percentage point every year.

Published in The Express Tribune, November 29th, 2018.