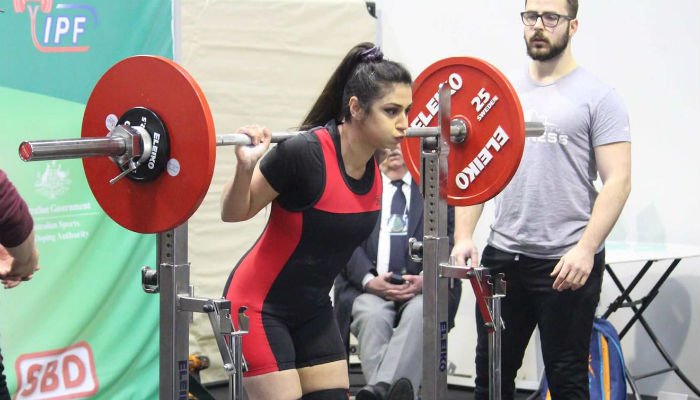 ---
PESHAWAR: Women have always been depicted as fragile and delicate in worldly matters particularly in literary pursuits or physical activities and this mindset is virtually ingrained in a male dominated patriarchal society in Pakistan.

However, there are many women in the country who have discarded the stereotype image, and proved their mettle in their chosen professional field.

One such outstanding and remarkable example is Maryam Nasim, an intrepid and determined young lady who has outclassed her male counterparts in a field said to be the exclusive domain of men.

K-P bans male presence, media coverage of girls sporting events

Believe it or not powerlifting and bodybuilding are Maryam's forte and not only has she shattered the myth she has proved herself by winning multiple medals in many competitions.

Hailing from K-P considered to be a conservative area of the country in relation to women Maryam comprises 0.3 per cent of sportswomen in the province.

While most other girls opt for softer sports like volleyball, badminton, volleyball, and handball, but she has chosen the gruelling sports of a male oriented activity.

Background information

Maryam Nasim belongs to Peshawar from a business family. She is the eldest of four siblings, who has become a role model for others to emulate.

She obtained her early education from Peshawar and graduated in Australia in the field of accounts, Besides a lucrative bank job in Melbourne she also took part in powerlifting and will soon be vying for the world's championship.

She is also a certified nutritionist and blogger who guides various sports professionals such as coaches .

"When I moved to Australia, I was looking for activities on campus and started running initially, and then powerlifting was a sport activity which attracted me a lot." Despite several warnings from the family members and colleagues that she had made a wrong choice, she persisted in her pursuit and now everyone appreciated her efforts, Maryam said.

She said that there are three types of lifting, but her field of expertise is powerlifting, which requires more energy and difficult task.

Achievements

Maryam  has won a silver medal last year, secured a bronze medal at Avia powerlifting competition. Despite sustaining an injury she defied all odds and won the medal.

She participated in the -57 and 63 kilograms category of the event alongside participants from seven other countries and made her mark and won recognition among the sports community of Australia and Pakistan.

Saudi women win hearts at international horse-riding competition

In recognition of her services for K-P and Australia the district government has awarded her sport recognition award (Fakhr-e-Peshawar) last year and the provincial sports ministry has offered her space for coaching and imparting training to men and women in the province. She hoped that she would win more medals for her country, but stressed that practice and physical fitness is the key to success. She said that she has been practicing hard since last year to get her eligibility certificate for competing for world tournament.

Athlete and dietician

Attired in the traditional Peshawar outfit, with light makeup and with a childish smile, she doesn't appear to be a powerlifter. From her grace she represented the banking sector professional. But besides power lifting game, she is professional dietician and coach for sports people.

" I am looking forward to having my own platform to utilise my knowledge and expertise to give basic health information to the majority of K-P women. She stressed on that note Pakistani women  don't have the stamina and will for physical  exercise, nor do they keep their body slim and strong, only few recognise this.

" I will provide free consultation, coaching and guideline to every sportsperson in the province" She said.

Published in The Express Tribune, November 26th, 2018.