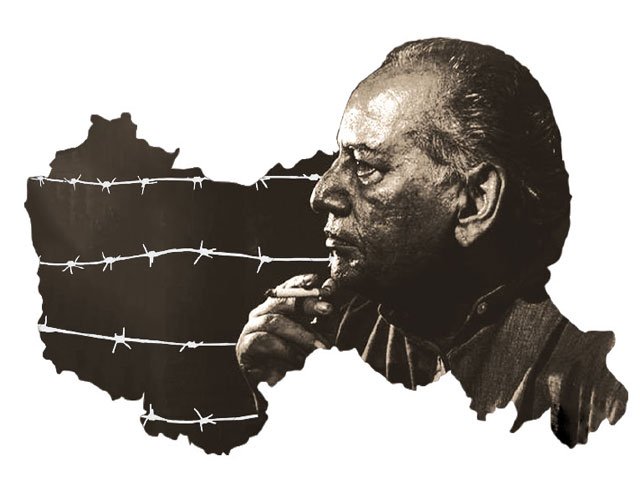 ---
KARACHI: Faiz Ahmed Faiz continues to engage audiences in life and death.

The recently held Faiz Festival was just a small testimony to the late poet's genius and relevance to contemporary South Asian society. His distinctive take on romantic-revolutionary writing speaks of a lover who is a victim to her times but never leaves hope. The romance and the failing of it eventually take the shape of resistance against state despotism as Faiz's words continue to stare at us like a mirror.

One wonders, where did the personal become political for Faiz? It is not easy to pinpoint one particular event or place. However, the indisputable literary icon of India and Pakistan had a close connection to the disputed land of Kashmir.  The illustrious life of Faiz Ahmed Faiz began in British India, where he spent his early life and youth.

A friend in Sialkot

Born in the town of Kala Qader-Sialkot, Faiz was raised in a linguistically opulent household. He studied Urdu, Persian and Arabic from teachers such as Maulvi Ibrahim Sialkoti and Maulvi Meer Hasan, who were also the teachers of Allama Muhammad Iqbal. This literary ease and affluence fraternised him with the two great luminaries of Urdu poetry: Ghalib and Iqbal himself.

Not only did Iqbal's literary style exude in Faiz's writings, it is also said that he indicted a letter of recommendation for his application to Government College Lahore and so, Iqbal was a literary guide, a teacher and a friend to Faiz.

Poet of East : Allama Iqbal's 141st birth anniversary observed

Another perennial commonality between the two was their hometown: Sialkot. It was here that the mobilisation of the Kashmir liberation movement first began. Historian Ayesha Jalal writes in her book Self and Sovereignty that until the 1930s, there was virtually no indigenous resistance movement in Kashmir. This was because under the Dogra Administration, all economic activity was taxed and most Kashmiri Muslims lived in depravity due to lack of educational and job opportunities.

Srinagar received news about herself from publications located in Delhi, where narratives of the left and right had a cutthroat competition. This information control and alienation led to a mass exodus of Kashmiri Muslims to Punjab and more specifically, Sialkot.

Muhammad Iqbal, who was among the handful of educated Kashmiri Muslims, had setup a literary fraternity by the name of Anjuman-e-Himayat-Islam and one division of this fraternity was called Anjuman-e-Himayat-e-Kashmiri Musalman.




A friend in Srinagar

Although these groups could not harness any real activism and lacked leadership, this lacuna was soon filled by the young Aligarh-educated Sheikh Abdullah. He went on to form a wing of Sialkot reading clubs in Srinagar called The Reading Room Party – another cross border literary struggle which later morphed into the National Conference Party of Kashmir. Sheikh Abdullah's political struggle carried on the legacy of Iqbal and the literature of Faiz. In fact, he remained a close aide of Faiz's through the times.

Renowned music composer Arshad Mahmud, who was also a student and compatriot of Faiz's, gave renewed energy to some of the latter's most recited poems, performed by Tina Sani and Nayyara Noor. He reveals that Bol ke lab azaad hain teray, Bol ke jaan ab tak teri hai was a poem Faiz wrote for Sheikh Abdullah.


In his book, renowned Pakistani playwright and broadcaster Agha Nasir also gives anecdotal evidence of the friendship between Faiz and Sheikh Abdullah, corroborating the possible dedication of this poem. Another poem – titled Subh-e-Azaadi, roughly translated as the 'Dawn of Independence' – was a poem published on the front page of Pakistan Times on our first Independence Day.




While it is a complex and indeterminate exercise to set limits on what the poet was thinking while writing this, it is interesting to note that the composition of the poem can be situated in terms of landscape. Faiz began writing it in Lahore and completed it in Srinagar.

MD Taseer, Patrus Bokhari and Dr Nazir Ahmed were some of the first ones to hear it in person and reveled in it, but there was a mixed public reaction. Some critics felt that it was not the right time to mourn the bloodshed of Partition with the celebration of Independence still looming large.

Considering Faiz's journey from Lahore to Srinagar, and the completion of Subh-e-Azaadi, it can be speculated that he was talking about enslaved Kashmiris who remain at the behest of an incomplete journey.




In his book Love and Revolution, Ali Hashmi writes that Faiz wrote a total of 11 poems each year on Pakistan's Independence Day and the mood in all of them was a mixture of melancholy and love. Agha Nasir noted that, "These poems were written at different times and are composed in different styles and different metres but if we read them together, their internal rhythm makes them appear like a single long poem."

Marriage in a summer palace

Perhaps the most prominent account of Faiz's concern for Kashmir is an endeared event from his own life: his marriage to Alys George, who became Alys Faiz after marriage and later took on the name Kulsoom and is regarded as a prolific writer in her own right.

A comment on society's descent into an obscure abyss

In an interview shared by the Faiz Foundation, Alys beautifully recounts her wedding day in Srinagar, at the summer palace of MD Taseer (Father of Salman Taseer), who her sister's husband and Faiz's friend.

Alys mentions how she had asked Faiz if he bought her a ring and he said he did. He said that he had borrowed money from Mian Iftikharuddin (editor-in-chief of Pakistan Times) and joked that he would not be paying him back. "The nikkah ceremony was performed by Sheikh Abdullah who posed the question in three languages: English, Urdu and Kashmiri," she says. It was followed by a small gathering and a mushaira.

A letter

Much later in his life, Faiz also extended creative liberties to the Kashmiri poet Agha Shahid Ali, who translated selected poems of his in The Rebel's Silhouette.

Ali had requested Faiz for written approval to translate the poems which was granted after the latter returned to Lahore from Beirut. They had met once before, at Ali's own house when he was still a child. Their mutual love of Begum Akhtar became a fond memory between the two.

Ali recalls this exchange in his book The Half-Inch Himalayas. "Twenty days before your death, you finally wrote, this time from Lahore, that after the sack of Beirut you had no address. I had gone from poem to poem and found you once, terribly alone, speaking to yourself. 'Bolt your doors, sad heart! Put out the candles, break all cups of wine. No one, now, no one will ever return."

Classic, contemporary Hindko poetry compilation launched

The English translations (which have received critical appreciation) popularised Faiz's writings and imbued them with higher political relevance to post 2000 Kashmir.

Faiz passed away on November 20, 1984. These recollections shed some light on what Kashmir meant to him. A friend in Sialkot, a friend in Srinagar, a marriage in a summer palace and a letter… maybe even more.

Have something to add to the story? Share it in the comments below.