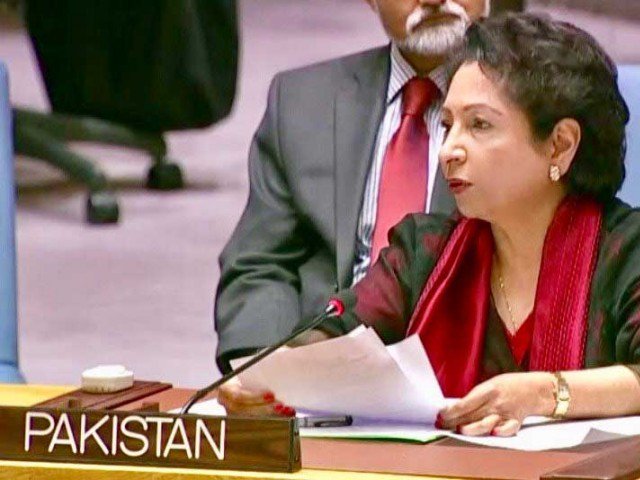 ---
Pakistan's Ambassador to the United Nation, Maleeha Lodhi, said on Saturday that the credibility of the intergovernmental body depends on the success of its peacekeeping operations.

Speaking during a session of the UN Security Council on Strengthening Peacekeeping Operations in Africa, Lodhi said that the Security Council must take into consideration the views of troop contributing countries in evolving and updating mandates for their deployment and operations.

The Pakistani envoy told the 15-member council that as one of the world's top contributors to the UN's Blue Helmets, "Pakistan's brave peacekeepers continue to be deployed in Africa and have contributed to many of Africa's success stories, from Liberia to Cote d' Ivoire to Sierra Leone".

She said that Pakistani peacekeepers have worked in difficult and at times dangerous situations, but have never shied away from fulfilling their mandates.

Pakistan informs UN of initiative to counter defamation of religions

Ambassador Lodhi said that well-trained and professional forces from Pakistan have protected civilians, provided much-needed medical care and rebuilt communities in many conflict zones around the world.

Urging the Security Council to invest more in sustainable and predictable funding, the Pakistani ambassador stressed that "successful peacekeeping was a two-way street."

"Its success depends as much on the dedication and professionalism of peacekeepers, as on adequacy of resources and realistic and achievable mandates", she added.

"Pakistan," she reiterated, "remains committed to exploring and supporting initiatives that help improve peacekeeping to make it fit for purpose and adapt better to changing environments and needs".

The Pakistani envoy also stressed that regional countries were better equipped to understand the challenges faced by their region and to respond to them. In this regard, she commended the African Union's (AU) commitment to stabilising conflict situations and resolving disputes in Africa.

Peacekeepers, she said, are the eyes and ears of the UN, who can provide valuable input to shape robust and effective peacekeeping operations.

UN peacekeeper held over alleged sex abuse of minors

Speaking about her country's prominent role in UN Peacekeeping, Ambassador Lodhi informed the Security Council that Pakistan was the first country to accede to the "Declaration of Shared Commitments," that was adopted during the high-level week of the General Assembly in September.

With the support of more than a 150 states, this declaration strengthens UN peacekeeping partnerships with the AU and supports capacity building efforts.

Lodhi said that the UN Charter emphasised the importance of cooperative, inter-dependent and mutually reinforcing relationship between the UN and regional organisations.

The envoy also paid tribute to peacekeepers from Africa who have lost their lives in the operation in recent weeks. "As a country that has faced similar tragedies, we fully appreciate their pain", she added.

Such incidents, she concluded, remind us of the importance of investing in the safety and security of Blue Helmets.
COMMENTS
Comments are moderated and generally will be posted if they are on-topic and not abusive.
For more information, please see our Comments FAQ