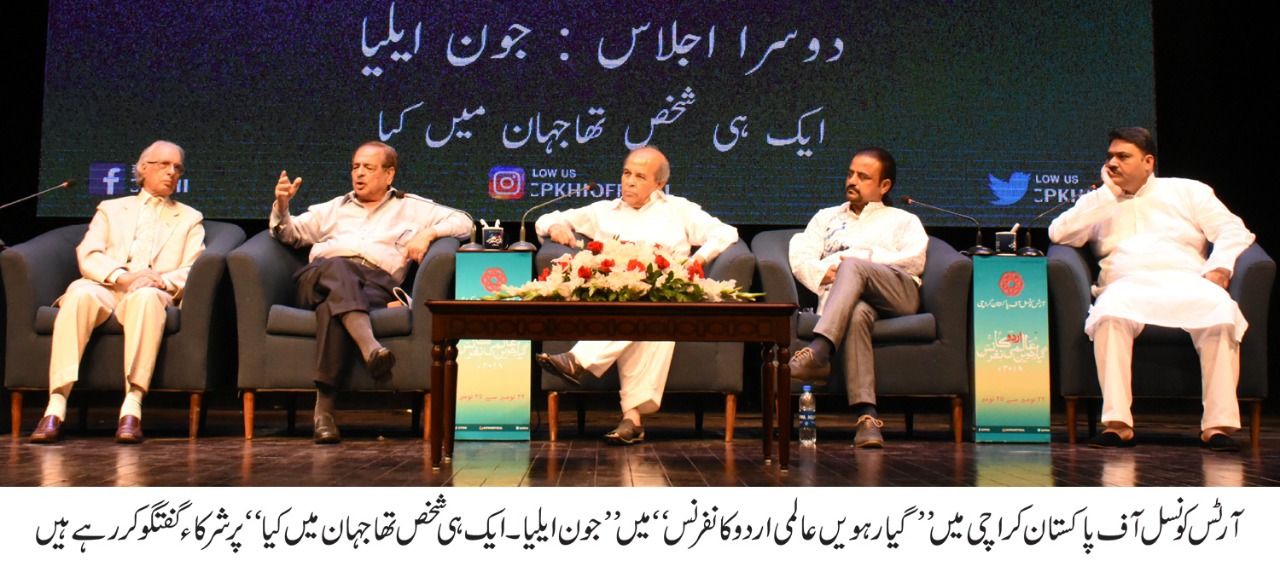 ---
KARACHI: The Aalmi Urdu Conference is a funfair of sorts. It gathers writers, poets and authors of Urdu language from all around the world under one roof and provides Karachiites with an opportunity to learn and socialise at the same time.

For a country whose primary form of entertainment is food, events such as the Urdu Conference and Faiz Festival are indeed a breath of fresh air. They provide a platform for exchange of ideas and an avenue for creative discourse that is essential for the smooth functioning of any society. However, the Urdu Conference has always been unique in the experience it guarantees, both planned and unplanned. The 11th edition kicked off on Thursday evening as the usual suspects flooded the Arts Council like extras in a Bollywood dance number.

1. The Ghalib who could not be

If you have ever had tea at the Arts Council canteen, Gul Rung, you must have definitely run into one of them. If you didn't notice then they must either be waiting for their muse to show up or the times to change so that a talent like them can finally rise above the smoke of nepotism and bad art. These are the Ghalibs who could not be.

Octogenarians and mostly men, they consider themselves the manifestation of a better time, when artists were respected and there was more aloo in the samosa at the Arts Council. They roam around at the Urdu conference like trolls on your Twitter timeline; if you are young and brimming with ideas they'll shoot you down for your bad diction and poor upbringing. Not unless you recognise them by their penname, something like Zahid Tanha, Meem Meem Aatish, Mushtaq Kaifiyat or Shakeel Bebaak and the list goes on.

The possibility of you knowing their penname is equal to the Arts Council President Ahmed Shah not bragging about his efforts. They can be sitting right next to you, in front of you, behind you or at all of these places. It's best not to engage with this boys club.

2. Bewildered burger

While burgers come in different flavours and sizes, the one that I am talking about has nothing to do with your appetite. This is a Karachi stereotype that has evolved into a brat over the years; who lives in a bubble known as DHA and has never crossed the Clifton Bridge. In order to connect with his roots and know more about the language that the city beyond the bridge speaks, he leaves the bean bag and heads out.

You'll see him scanning the banner outside the council, in detail, but it's written in Urdu, so he braves a rather engrossed expression on his face and walks into the panel discussion like he walks into T2f. Fifteen minutes pass and all that he has heard are verbose introductions in response to verbose introductions of six people who are not there to talk about themselves. The burger boy is forced to take a smoke break and then call a Careem. Now don't blame the colleague from Gulshan who told him that Urdu conference is just KLF in Urdu. It really isn't.

 3. Jaun Elia's bestie

Everyone who went to university in the mid to late 80s and is a regular at Urdu conference will claim to be Jaun Elia's bestie. If you think of the countless admirers Jaun had in his life, it is quite possible that all of them actually have at least one anecdote to share from their interaction but sometimes, it gets a bit overwhelming.

A man in his late 60s told me at the inaugural session that "Jaun toh mere haathon main khela hai (I've seen Jaun grow up)." If Jaun was alive today he would have been 87. Another person claimed that he knows so many 'inside' stories about Jaun that even his close circle, family and friends won't know. I asked him how, he responded, "Jaun  never knew this but I dedicated my life to his work and what he stood for." And how is that actually possible? "Tum nahi samjho ge (You won't get it)." I still don't get it.

4. Octogenarian who is there to party

I like people who keep things direct and simple; without indulging in any kind of passiveness that is common to literary circles. They've usually seen the worst of personal life and political atmosphere, and all they stand for today are themselves. A similar uncle confused my press ID for the organisers ID and asked me a very straight and not so profound question, "Main toh raqs dekhne aya hun, yeh adabi nishist kab khatam hogi? I came to watch the dance performance, when will this literary discussion end?"

He was more agitated than curious. As if the dance performance should have been the main act of Urdu conference and now he'd have to wait a couple of hours before he gets what he's here for. People like him have had their fair share of Mir vs Ghalib debates and come to such conferences with, 'where's the party' attitude.

5. The woman nobody cares about

As much as the Arts Council boasts about its inclusive attitude, it is no news that the council is essentially a boys club. That eventually translates into the crowd which is dominated by men and men that ushers can't really control. How they sit or how they spread their legs is beyond the grasp of the teenager who is trying to organise people in a cue but being ignored.

As a result you'll always find this woman struggling to get a seat in the indoor auditorium. While our basic etiquette is limited to offering seats to the elderly and not women, there isn't much to expect from the organisers either. Yesterday, after a mother and daughter finally managed to get a space on the stairs, they were told by the guys on the seat that these stairs are also taken. I am pretty sure I have seen this before.

Have something to add to the story? Share it in the comments below.