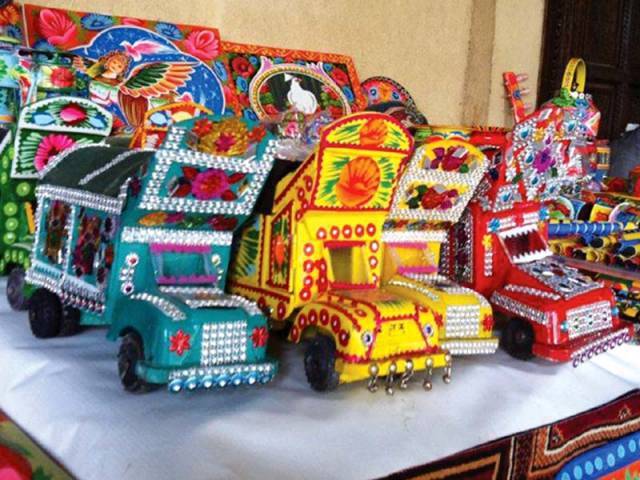 ---
ISLAMABAD: For years, truck art was the sole bastion of a few wizened old men wearing old shalwar qameez dotted with smidgens of paint and surrounded by an assistant or a young apprentice toiling away at a truck yard on large carcases of trucks.

But with the craft gaining international recognition in recent years and its applications spreading from trucks on to small teapots and cushion cases, the art has also embraced a new generation of practitioners who are not even men.

Nosheen Bano, known as Noshi Ustad, is working as a truck artist at the Pir Wadhai Bus Terminal.

Modulated Ambiguities: Of abstract forms, liberating shapes

Unlike other truck artists or bus painters, she did not learn her craft standing atop makeshift supports to paint a bus under the watchful eye of a traditional master truck art painter. Instead, she learnt her craft in the relatively comfortable confines of the National Heritage Museum and Lok Virsa and then decided to adopt it as a profession.

In the beginning, Bano said, it was difficult for her to even think of this as a profession but it with her family backing her, she decided to jump into the profession which is 99.99 per cent dominated by men.

"My life was one big struggle and to compete with men, I had to become like men, so that I could support my family which comprises of a son and five daughters," she said.

Bano had married, twice, but was now a widow.

Working as a domestic helper, she discovered that it was insufficient to support her family. She later took up a job at a cloth factory which she hoped would help her provide for her family.

Not only was the pay not as good as she hoped, but the work was also quite monotonous.

Then, she decided to try her hand at truck painting.

Bano said she was good at drawing from an early age, which proved to be an invaluable asset for her truck painting.

After learning from her male teacher at Lok Virsa, she decided to join the profession with men.

"Though it is a very tough job which demands expertise to face many customers, once you become a member of a skilled class you enjoy it and you know how to negotiate with customers and meet their expectations of quality work," she added.

Resolving conflict through poetry

Bano says she deals with different kinds of customers every day. She added that she has been criticised and mocked for working at a bus terminal.

But, she said, she kept at it all the while motivating other women to work with their own hands and be self-sufficient instead of begging on the streets.

She regretted that those women are not ridiculed for seeking alms by the roadsides but those who are working hard to make a living are discouraged. "I ask those beggars to work and they say they feel shy about working with men but in reality, they do not want to work."

Published in The Express Tribune, November 19th, 2018.