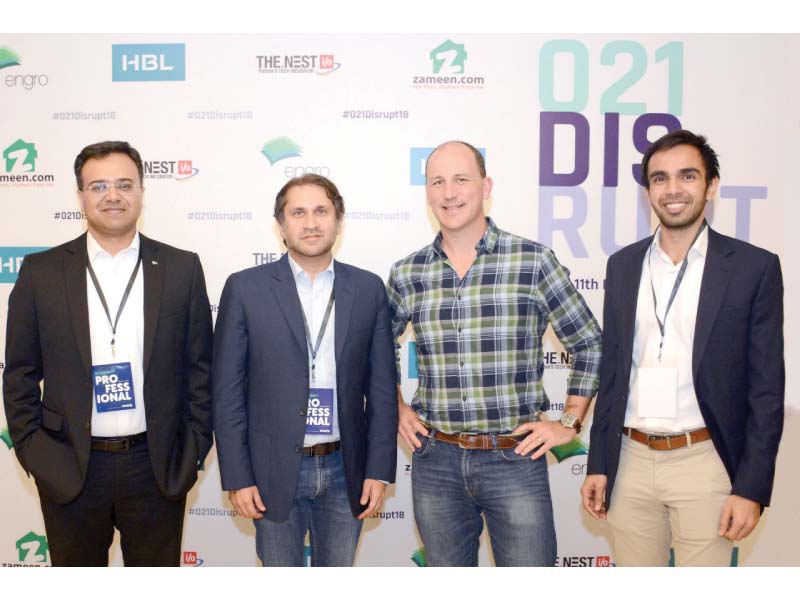 ---
KARACHI: The venture capitalist community got a chance to explore synergies and discuss investment issues faced in deploying capital in Pakistan's vibrant tech ecosystem at the 021Disrupt conference.

These remarks were made by Lakson Investments Venture Capital (LIVC) Managing Partner Faisal Aftab. He said, "Meetings on the sidelines have been crucial for the investor community to strategise and collaborate for co-investment opportunities."

The international conference on entrepreneurship and innovation was held on November 10 and 11 in Karachi to connect the world's leading investors, innovators and tech pioneers with the start-up community of Pakistan to exchange insights and explore investment opportunities. The two-day conference was organised by The Nest I/O, [email protected]'s tech incubator.

'Cities need to start acting like startups to solve problems'

The conference has become a catalyst in connecting domestic and international venture capital to Pakistani start-ups. This year, a greater number of domestic funds also participated in the conference, which included LIVC, Fatima Ventures, TPL e-Ventures, i2i Ventures, Sarmayacar and Artistic Ventures. In addition to these, a greater number of international venture capitalist participants took part in the conference, which included Alter Global, Gobi VC, Lamia Capital, Middle East Venture Partners (MEVP), Wamda Capital and Valhalla Capital.

Investor roundtables were organised for venture capitalist funds to share ideas, discuss issues and collaborate to invest in the local venture ecosystem.

Entrepreneurial scale-ups

Allen Taylor, the managing director of Endeavor Catalyst, a company which invests in emerging companies and entrepreneurial ventures, said, "Entrepreneurs can change the world," adding that one can form "billion-dollar companies" from anywhere.

Way forward for start-ups to create space in country

Talking about scale-ups, the Endeavor Catalyst MD stated that entrepreneurial scale-ups really matter, and "as you start to form a company around your product and service, the challenges relating to scale-ups arise".

However, Taylor was optimistic and claimed that only a "few big success stories can have a big impact on a country's entrepreneurial ecosystem", adding that these success stories can help entrepreneurs think big and inspire the next generation as well.

Highlighting three ingredients for successful scale-ups - markets, talent and capital - Taylor said that successful scale-ups require the right people as it is a 'team sport' and getting the right people and creating the right environment is key to successful scale-ups. In addition to this, forging long-term partnerships with investors, "who also think of themselves as mentors" is also pivotal for young entrepreneurs aiming to scale up their ventures.

Published in The Express Tribune, November 15th, 2018.

Like Business on Facebook, follow @TribuneBiz on Twitter to stay informed and join in the conversation.
COMMENTS
Comments are moderated and generally will be posted if they are on-topic and not abusive.
For more information, please see our Comments FAQ