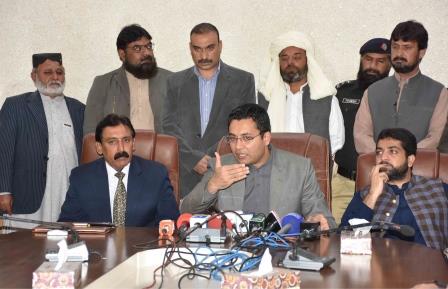 ---
QUETTA: Federal Secretary for Railways Farrukh Habib has said "the previous government of Pakistan Muslim League-Nawaz (PML-N) has broken the backbone [Ministry of Railways] of the country".

Addressing newsmen in Divisional Superintendent Office (DSO) in Quetta on Monday, the secretary alleged that during the PML-N tenure projects were adopted for personal interests.

"Accountability has been started against people who looted public money," he said adding "they can't hide from questions regarding misuse of public office for their personal interest".

Railways to introduce 10 new trains

He warned that no one would be spared in the accountability process and anyone who had looted public money would have to answer.

Taking a jibe at the former minister for railways, Habib said he (Khwaja Saad Rafique) wasted millions of rupees in the construction of Narowal and Raiwind Railway Stations "just to make his leader happy".

Divisional Superintendent for Quetta division Wasif Ali Mughal and provincial Minister for Forest Mir Zia Langove were also present during the media talk.
Speaking on Prime Minister Imran Khan's recent visit to China, the secretary said agriculture and railways were on top of the agenda during the meeting. And the Chinese companies showed the willingness to invest in the railways department, he added.

Provinces should look for creative ways to finance infrastructure projects

Moreover, assistance is also being sought in the digitalisation of the department countrywide, he said.
He also said the railways has decided to give its land for Prime Minister Housing Scheme.

Sharing the details of Sibi-Harnai railway track, Habib said 90 per cent of construction of the track has been completed and the train service would be restored very soon.
Meanwhile, the secretary blamed previous rulers for the dismal state of Balochistan saying "Balochistan didn't get the appropriate attention from the previous regimes, which increased the issues of the people living in the province."

Habib said the incumbent government has a bold vision for people of Balochistan and "the journey of Naya Pakistan would start from Balochistan".