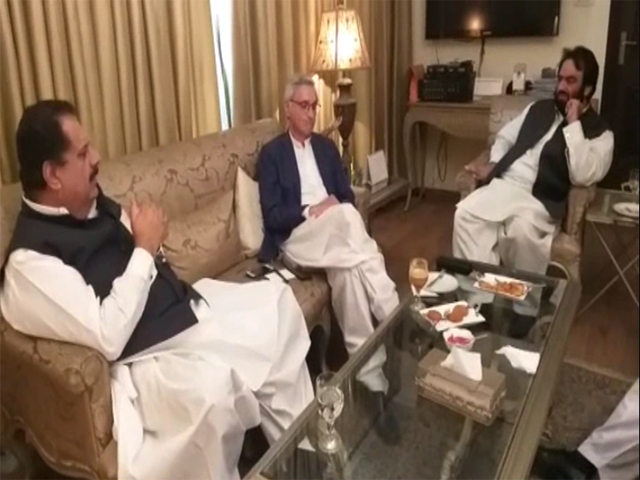 ---
LAHORE: A viral video of a meeting among leaders of the Pakistan Tehreek-e-Insaf (PTI) and the Pakistan Muslim League-Quaid (PML-Q) has unveiled a clear rift between Punjab Chief Minister Usman Buzdar and Punjab Governor Chaudhry Sarwar.

The clip that surfaced over social media on Saturday is of a meeting that took place among the PTI's Jahangir Tareen, Punjab Minister for Mines and Minerals Hafiz Ammar Yasir and the PML-Q leaders – Punjab Assembly Speaker Pervaiz Elahi and Federal Minister for Housing Tariq Bashir Cheema.



It shows the PML-Q leadership expressing concern over Sarwar's role in Punjab government and asking Tareen to 'rein in' Sarwar. Cheema complains to Tareen, "Sir, control Sarwar, he will not let your chief minister stay."

Elahi also supports Cheema's stance and endorses his viewpoint.

After the video went viral, Elahi tried to clarify his position by stating that Sarwar is an old friend and that he has very good relations with him. He said both Sarwar and Buzdar have been nominated by Prime Minister Imran Khan, and the PML-Q has very cordial relations with them.

"There are complaints and reservations [within parties and allies] which are also duly sorted out and removed. We are fully supporting Imran Khan and Buzdar with good intention and will continue to do so in the future," he added, while speaking to media.

PTI hands Jehangir Tareen's sister Senate election ticket

Elahi said it is pretty normal to express reservations and complaints in party and ally leaders meetings. "I have talked to Sarwar who said that Cheema is an outspoken person and talks freely," he said.

He said the PML-Q's alliance with Imran Khan and the PTI is going on appreciably. During the meeting with Tareen, Cheema had also reiterated his old complaint about interference in his constituency while discussing the Senate election. Elahi said it was not something unusual to complain to an ally and discussions of internal meetings should not be hyped like this.

"It is a routine practice that in party meetings that people air their views and discuss problems openly which are solved by the party leadership. If this is not done, it will affect the secret ballot. Prior to elections it is necessary to addresses grievances of voters," he stressed.

To a question about the Saturday's meeting, he said there was a dead silence in Punjab for the last 10 years. Nobody even dared to talk in the ruling party meetings, let alone spelling out complaints because if Shehbaz Sharif minded that, the police used to reach the house of those who dared to differ.

"But we have always welcomed complaints and criticism with open heart and patience," he added.

Punjab Information Minister Fayyaz-ul-Hassan Chohan also tried to dispel the impression that there is some rift among allied parties. Chohan told media that Cheema's words were being taken out of context.

According to the Constitution, Buzdar and the Chief Minister's Secretariat are the centre of power in Punjab. All ministers stand with the CM and are working under his leadership, he said.

He said there were apprehensions and reservations which were conveyed to the leadership. "That is what Cheema was doing during the meeting. Needless hype should not be created around the statement," said Chohan.

He said difference of opinion is the beauty of democracy. "Cheema was speaking about some minor differences which were neither a big issue nor undermine the authority of Punjab chief minister," he said.
COMMENTS
Comments are moderated and generally will be posted if they are on-topic and not abusive.
For more information, please see our Comments FAQ