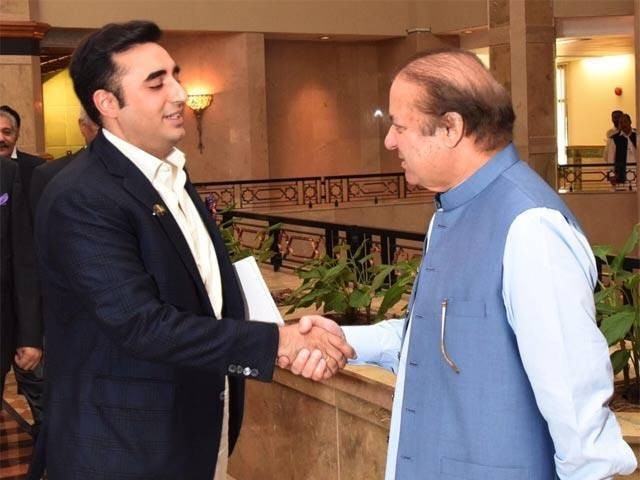 ---
LAHORE: Despite reservations of Pakistan Peoples Party (PPP) lawmakers in Punjab Assembly, the party's top leadership has decided to support the Pakistan Muslim League-Nawaz (PML-N) in the November 15 Senate elections on two vacated seats.

The decision was taken on Friday after consultations between PPP Chairman Bilawal Bhutto Zardari and party's parliamentary leader in Punjab Assembly Hassan Murtaza, Express News reported.

The PPP leadership in Punjab had shared their grievances with the central leadership, but nevertheless the decision was taken to support the PML-N.

Murtaza said the decision to support the PML-N was only limited to the two Senate seats. He added that the party supported the PML-N to condemn the 'fascist' policies of the Pakistan Tehreek-e-Insaf (PTI) government.

Moreover, the PML-N would have little chance of securing the two Senate seats from Punjab despite the PPP's support.

Senate elections to be held on Nov 15

According to the data available on the Punjab Assembly website, the PTI had a total strength of 180 members in the house while its ally, the Pakistan Muslim League (PML-Q), had 10 seats, bringing the tally up to 190 votes.

On the contrary, the PML-N has 167 members while the PPP has seven. There are four independent candidates as well. Therefore, the number game does not appear to be in the PML-N's favour.

The PML-N had awarded the ticket to former senator Saud Majeed and former state minister for health Saira Tarar.

The PTI had given the tickets to Waleed Iqbal, the grandson of Dr Allama Muhammad Iqbal, and Seemi Aizdi to contest the Senate elections.

The two Senate seats in Punjab fell vacant after Sadia Abbasi, the sister of former prime minister Shahid Khaqan Abbasi, and PML-N leader Haroon Akhtar Khan were disqualified for possessing dual nationalities.