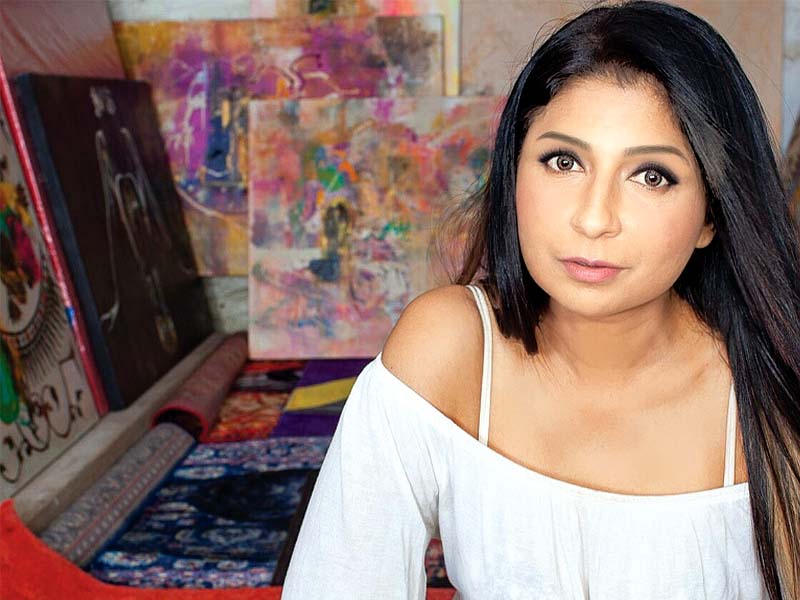 ---
Qinza Najm, a coveted New York-based artist, who aims to provoke curious conversations and empower the suppressed through art is all set to showcase her work on November 15, in Karachi. Leaving her career behind as a psychologist, Qinza moved to NYC to pursue her passion for art. She shares the inspirations behind her work, what it aims to convey and her biggest influences

What inspires you?

I find inspiration through the lives of humanity. Based in New York, a noted energetic city of the world, I'm surrounded by some of the most influential art galleries in the world which has really expanded my capacity for human potential. The countless narratives of how people have turned their situations into more positive ones, for me are a form of inspiration. I derive my inspiration from current events, political climates and works of other artists are all constant sources of inspiration.




When did you first start painting?

When I was younger, art was my outlet for self-expression. Drawing always had a therapeutic effect on me, as a child it allowed me to create my own alternative universe using coloured pencils. It was then that I learned how to tell stories and discovered the power of expression.

You have a PhD. in Psychology. When did you realise that it's art that you wanted to pursue?

Through all of my 'required' academic training I kept myself engaged in painting and practicing creativity. After obtaining my PhD and a few years of teaching and practicing as a Doctor, I quit.  I was not satisfied with my output and felt the need to create a dialogue on a bigger scale. Eventually, I found the courage to pursue art full-time and go to New York City. Many people around me were not supportive and thought it was ridiculous and it would be more prudent to keep art as a hobby. However, I moved forward and did what I felt was right and authentic for my true calling.

Your exhibition takes place on November 15 in Karachi. What kind of art should we anticipate?

On November 15th, my exhibition will be held in Karachi at the Chawkandi Art Gallery. Since my art is multidisciplinary, the show will give you a glimpse of the different mediums I use to narrate my art. This includes paintings on hand-woven and machine made Persian rugs, oil on canvas, video work and live art performances.

What does your work aim to say?

Through my artwork I aim to create awareness, through a dialogue that would perhaps change perceptions of the norms. There is a saying "Sweep it under the rug," at times it is better to keep the dirt under the rug. However in some scenarios it is also important for the dirt to be swept out.  I express this by using hand woven and machine made carpets as my canvas.  The paintings on the carpet represent suppressed, walked over women. By painting and hanging these rugs on the walls and ceilings I am, in my imagination, raising the status of these women and giving them figuratively a different place in the society and culture. Overall the aim is to liberate human potential in myself and hopefully in others because many times we underestimate ourselves.




Who are your biggest influences?

God my higher power, Gerhard Richter and old classical masters.

Tell us about an art piece that took you the longest to complete.

I was asked to create an art piece for a Museum in New York. I went all around the city to collect more than 1100 bullet shells from the shooting ranges for an art performance project. I wanted to attach these shells to a fishnet which was quite tricky. It was a painstaking process of experimentation and failures before I finally figured it out. The art project intended to create a dialogue around gun violence in our communities. The work was received well and initiated interesting conversations.

Is there a work of art that you would like to have in your home next to your own art?

So many actually, but I would love to have my work be next to Picasso, Gerhard Richter, Roohi Ahmad, Imran Qureshi, Aisha Khalid, Grayson Perry and Mona Hatoum.

If you could meet any artist in the world dead or alive, who would it be?

Sadequain, Gehard Richter, Banksy and Louis Bourgeois.

Are you fond of collecting anything?

I am a hoarder. I love to collect things, I love to walk around my studio in New York and pick random things that inspire me in that moment. I have been collecting different objects for my project for a few years now. Currently I am working on developing my artwork for a solo show coming up in a very prestigious art gallery in New York and I am working with found objects to create large installations among other works.

Describe your work in five words.

Experimental, relevant, thought provoking, inspirational and multi dimensional.




What is your take on feminism?

When it comes to basic human rights and about equality, feminism is not just targeted towards women. The term 'feminism' assumes one gender only when it can be both. If feminism pushes towards destroying stereotypes which have hindered the lives of both men and women and aims to empower the sexes then so be it. However, the term is very misleading, and puts most people in a defensive position when they are actually trying to correct a negative.

You haven't showcased your work in Pakistan before. What kind of feedback are you expecting to gather?

While the international Pakistani community is no stranger to my work, this is officially the first time I am showcasing my art in my own country and am very excited about it. As an artist, I would hope for people to be able to relate and understand the comparative implications and connections between life and this art endeavour. I would like my work to serve as conversation starter for topics which are generally hard to talk about.
COMMENTS
Comments are moderated and generally will be posted if they are on-topic and not abusive.
For more information, please see our Comments FAQ