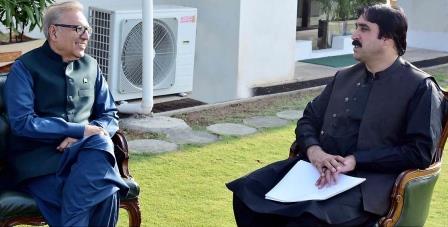 ---
ISLAMABAD: President Dr Arif Alvi on Monday said both provincial and federal governments must take steps to provide better health care facilities to the people of Balochistan, especially those in remote areas.

Dr Alvi said this during a meeting with Minister for Public Health Engineering (PHE) Balochistan Noor Muhammad Dummar who called on him at the Aiwan-e-Sadr.

The president stressed that a healthy human resource "is the key to progress of any nation". He said it was the state's primary responsibility to provide accessible and equitable health care facilities to the masses in order to make them productive members of society.

Eradication of polio 'a collective target'

Dr Alvi told Dummar that the government should focus on preventive care.  He added that public awareness campaigns must be launched to promote sanitation practices and healthy lifestyle "which are the basis of preventive health care".

On the occasion, Dummar briefed the president on the ongoing projects and the steps being taken to provide health care facilities to the people. The president assured Dummar of his full support for provision of health care facilities to the people of Balochistan.
COMMENTS
Comments are moderated and generally will be posted if they are on-topic and not abusive.
For more information, please see our Comments FAQ