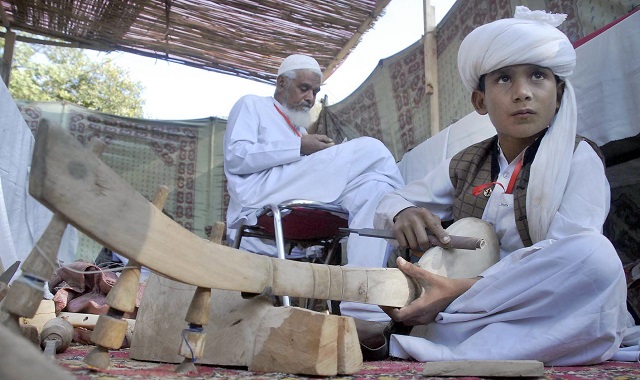 ---
ISLAMABAD: With security concerns dissipating, the annual 10-day-long Lok Mela finally began at the National Heritage Museum Lok Virsa on Sunday amid folk celebrations and fanfare.

The festival was kicked off by Federal Minister for Interprovincial Coordination Dr Fehmida Mirza who said that despite several conspiracies, Pakistan remains strong with its myriad of cultures intact.

Noting that she had toured the entire country and visited other countries as well, Dr Mirza said that the beauty and culture she finds in Pakistan is unmatched anywhere in the world.

"Our craftsmen and artistes lead very difficult lives, but they have still kept our culture alive," she said, adding that everyone should unite for Pakistan.

She urged the government to support folk artistes and to hold more such festivals.

Earlier, she performed the cultural ceremonies of 'chador poshi' for 64-year-old cultural knot-tying artisan Sara Bibi from Thar and did the 'dastaar-bandi' for 69-year-old Balochistan folk singer Akhtar Channar Zehri.

Lok Virsa's director said that the museum has always undertaken measures for the welfare and development of artists, and Lok Mela is the biggest step in that regard which showcases the colour of culture from all provinces and regions of Pakistan under one roof.

The mela was originally supposed to commence from November 2 but was pushed back by two-days owing to the security situation created in the aftermath of the Supreme Court's verdict for Aasia Bibi.

The Lok Mela, which features a host of traditional arts and crafts from all over Pakistan will continue until November 13. Other highlights of the ceremony include live folk performances by artistes from Sindh, Balochistan, Azad Jammu Kashmir (AJK), Khyber-Pakhtunkhwa and Gilgit-Baltistan (G-B).

The objective of the festival is to reinforce and strengthen national integration by promoting the cultural heritage of Pakistan through the active participation of all provinces, G-B and AJK.

Hundreds of master artisans, folk artists, folk performers and folk dance groups from all over the country participate in the festival bringing with them their skills and creativity.





Published in The Express Tribune, November 5th, 2018.