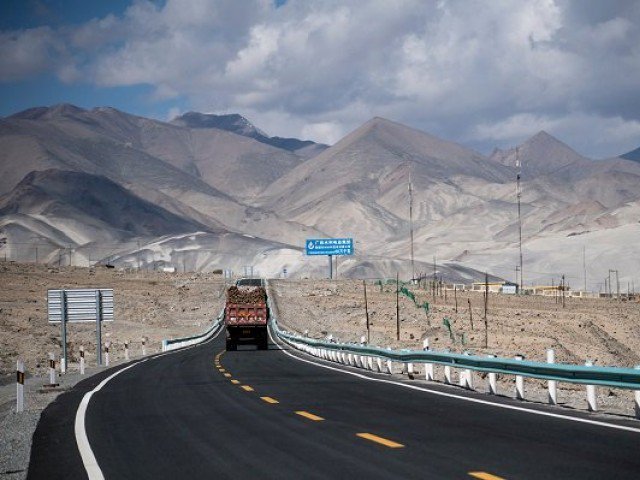 ---
ISLAMABAD: The China-Pakistan Economic Corridor (CPEC) is not a creeping colonisation project as many experts portray it as such. Yet CPEC manages to be a buzz word, with a negative connotation, for the international media and power corridors.

After the recent trade war between China and the US, the project has once again come under verbal attack. The US calls the Belt and Road Initiative (BRI) a "Made in China, Made for China" initiative while India says this initiative does not respect sovereignty.

Deep down the issue is a power struggle, instigated by the US and India against China and Pakistan. The strategy to malign the project has become part of the greater hybrid warfare for dominance in global affairs.

It is being depicted these days that Beijing is laying a debt trap for Islamabad, which will make the latter dependent on the former, in the long run. On the contrary, China has decided to extend further trade concessions under CPEC in order to help Pakistan solve its current economic woes. In this regard, the Chinese officials are trying to tailor CPEC as a 'demand-driven programme' for Pakistan.

The gigantic project is being seen as a window of opportunity in Pakistan, but it appears that some players are not comfortable with it, and thus, conspiracies and misguided assumptions have been fabricated. One of these is 'crafted mythologies' about CPEC-related loans and repayments.

Pakistan, China to utilise currency swap deal in trade

Those who scoff at CPEC are apparently off the beam when they pronounce that Pakistan would not be able to service the loans and repatriate profits to Chinese investors, due to diminishing exports, exhausting foreign exchange reserves, a stumbling current account and a heavy debt servicing burden.

According to some analysts, the country would be trapped in grim debt obligations to China, which will allow the latter to take the steering wheel of Pakistan's assets including the deep-sea port of Gwadar – CPEC's pivot.

An unbiased and dispassionate analysis would divulge that the nitty-gritty of all these glitches lies in the energy crisis that led Pakistani exports to recede gradually over time. Export orders could not be fulfilled as exporters did not have dependable and consistent power and gas supply. Had the energy limitation been absent, a growth rate of 10% per annum would have been attained in the last few years (as evident from the fact that during 2002-08 export growth was 14% and in the first eight months of fiscal year 2018 exports rose 11% as load-shedding had eased). In that connection, Pakistan's exports would have touched $36 billion in fiscal year 2018. The current account deficit with the unchanged volume of imports would have been lower by at least $15 billion and the need for short-term commercial borrowing would not have arisen.

Foreign exchange reserves would have been more than adequate and debt servicing burden manageable. Debt and debt servicing projections prepared by the Ministry of Finance for the period 2018-19 to 2022-23 show declining debt servicing ratios. The added burden of CPEC debt as well as repatriation of profits on investment would not create any pressure and is quite manageable.

The International Monetary Fund (IMF) has estimated that at its peak the repayments on both debt and investment account would be between $2.5 and $3 billion annually. This amount can be easily absorbed by increased exports, savings in imports of fuel, transit fee, etc. Thus, the fear of debt entrapment does not stand the test of empirical validity.

Allaying concerns

Recently, the Planning Commission of Pakistan also issued a statement in a bid to address concerns of the global community about Pakistan's CPEC-related Chinese debt and probably also to address the uncertainty currently prevailing in the economy.

According to the statement, outflows under CPEC will begin in 2021 and peak over the next three years without creating a debt trap. Starting in 2021, these repayments will be about $300-400 million annually and gradually peak to about $3.5 billion by fiscal year 2024-25, before tapering off with total repayments to be completed in 25 years.

The statement categorically dismissed the fears surrounding the loans and repayments, stating that "CPEC is not imposing any immediate burden with respect to loans repayment and energy sector outflows," arguing all debt-related outflows will be outweighed by the resultant benefits of the investments to the Pakistan economy.

China says more talks needed on economic aid for Pakistan

The commission reiterated that CPEC was a flagship project and the most active project of BRI where 22 projects worth a total of $28 billion have been actualised over the past four years. "The project could not be compared with Chinese overseas investment in Sri Lanka or Malaysia as frameworks and financial modes of CPEC are altogether different in nature," the statement said.

CPEC finances are divided into government-to-government loans, investment and grants. The infrastructure sector is being developed through interest-free or government concessionary loans.

Gwadar Port is grant-based investment, which means the government of Pakistan does not have to pay back the invested amount for the development of the port. Energy projects are being executed through independent power producers (IPPs); mode and finances are mainly taken by private companies from China Development Bank and China Exim Bank against their own balance sheets, therefore, any debt would be borne by the Chinese investors instead of any obligation on part of the Pakistani government.

Pakistan has, thus, opted for Chinese investment under CPEC due to the favourable financing arrangements. The crux is that Pakistan's balance of payments is not possibly to come under significant strain due to CPEC. What probably is to put the external account under strain is the quantum of non-CPEC-related energy imports.

Structural reforms

However, the worst mistake is to view CPEC as some sort of self-paying enterprise as if the investments will somehow generate the required level of economic activity to automatically fulfil all the repayment obligations that they bring. This is a mistake because it cannot be taken for granted.

Point to ponder is that structural reforms are direly needed to complement CPEC in providing an environment conducive for economic activity.

In the meantime, it is encouraging to note that China and Pakistan have reiterated their commitment to ensure implementation of CPEC projects and a probable expansion of the endeavour entailing focus on social sectors as per the desire of the PTI's government.

The writer is a research fellow/programme officer at the Centre for Research and Security Studies (CRSS) Islamabad

Published in The Express Tribune, November 5th, 2018.

Like Business on Facebook, follow @TribuneBiz on Twitter to stay informed and join in the conversation.




COMMENTS (7)
Comments are moderated and generally will be posted if they are on-topic and not abusive.
For more information, please see our Comments FAQ