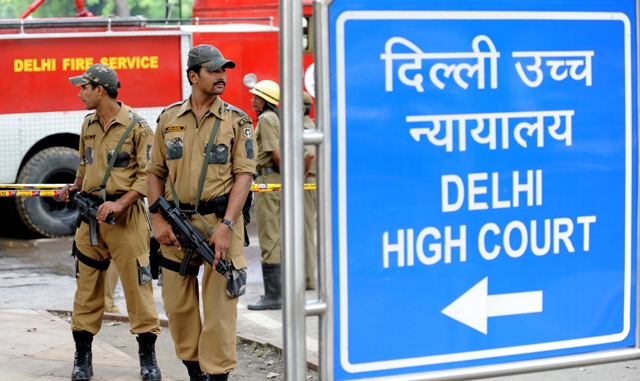 ---
NEW DELHI: An Indian court on Wednesday sentenced 16 police officers to life imprisonment for rounding up and massacring dozens of unarmed Muslims during historic riots in the country's north decades ago.

The officers were found guilty of shooting 42 men and tossing their bodies into canals, in one of the bloodiest moments of violent clashes between Muslims and Hindus in 1987.

A lower court had acquitted the officers from a special branch of Uttar Pradesh's police force in 2015 for a lack of evidence.

Indian minister defends citizenship test, citing Muslim growth

But a two-judge bench of the Delhi High Court overturned that decision, saying they conducted a "targeted killing of unarmed and defenceless people".

The court found them guilty of criminal conspiracy, kidnapping, murder and the destruction of evidence, the Press Trust of India reported.

Grisly photographs submitted as evidence to the court showed lines of Muslim men kneeling at gunpoint as uniformed police stood guard, rifles at the ready in what came to be known as the "Hashimpura massacre".

The policemen, all of whom have retired, have been asked to surrender to authorities before November 22.

Uttar Pradesh has a long history of violence between its majority Hindu population and a sizeable Muslim minority.

The Hashimpura massacre was one of the deadliest incidents in a long-running feud over a religious site in Ayodhya considered sacred by Muslims and Hindus.

Months of rioting over the Babri Mosque, where Hindus believe a temple was once built to Lord Ram, left an estimated 350 dead in 1987.

Indian officials accused of excluding Muslims from Assam citizens' register

In 1992, the centuries-old mosque was razed by Hindu nationalists, sparking further violence that killed more than 2,000.

The murder of Hindu pilgrims returning by train from Ayodhya in 2002 triggered revenge attacks on Muslims in Gujarat state that left more than 700 dead by government estimates.

Hindu groups have lobbied India's top court to consider their claim to build a temple on the site, but the case been adjourned until January.
COMMENTS (4)
Comments are moderated and generally will be posted if they are on-topic and not abusive.
For more information, please see our Comments FAQ