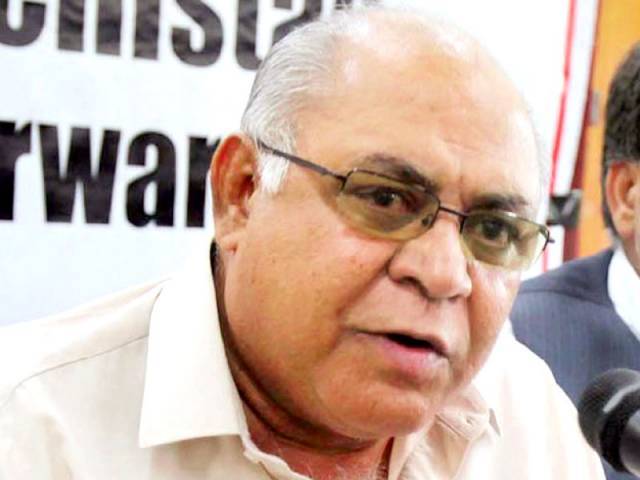 ---
QUETTA: National Party (NP) President Mir Hasil Khan Bizenjo has said the country is in the grip of a 'silent martial law' which is stricter than the previous three martial laws imposed on the country.

Addressing the inaugural session of the party's convention on Sunday, Bizenjo refuted allegations that in the 2013 elections, the NP had got the mandate through establishment's support. He said the party had never attempted to win the establishment's favours to enter the assemblies.

All party leaders and workers attended the annual convention of the party that kicked off in Quetta on Sunday.

The NP president lamented that politics was restricted to senior politicians in the country.

"Media has been facing censorship, and freedom of speech is being suppressed by powerful people. This indicates that the country has been in the grip of a silent martial law," he said. "The prevailing circumstances are harsher than in the previous three martial laws," he added.

Grand opposition alliance on the cards: Bizenjo

Bizenjo said that his party, in collaboration with other political parties, would resist attempts to repeal the 18th constitutional amendment. Such a step would lead the country towards a political turmoil, he warned.

Reacting to the discovery of fake bank accounts, he said, "It is propaganda by the federal government to weaken the 18th amendment, but all political parties are united against such moves."

The NP president said that his party would strongly oppose the PTI government's proposal to cut Balochistan's share in the 7th National Finance Commission (NFC) Award, and vowed to continue struggle for the rights of the province.

"Prime Minister Imran Khan should take the Balochistan government into confidence while taking decisions about the future of the province," he said while calling upon the PM to make public all the deals signed with the Saudi government.

Bizenjo reiterated that his party would launch a movement against any attempts to exploit the provincial resources.
COMMENTS
Comments are moderated and generally will be posted if they are on-topic and not abusive.
For more information, please see our Comments FAQ