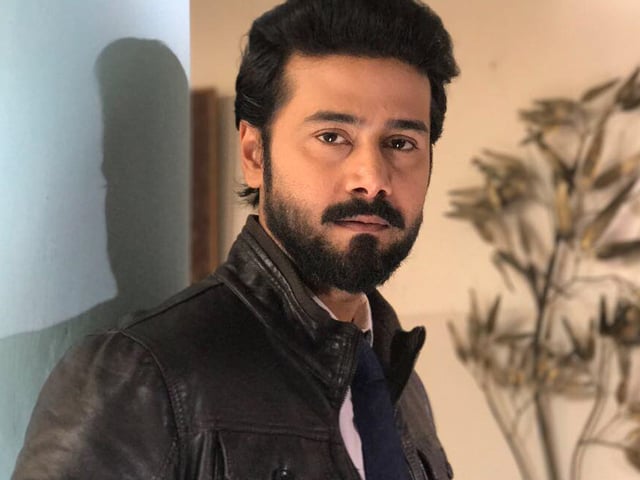 ---
KARACHI: While TV actor Ali Abbas may not be a popular face, he has managed to hold his own in the industry, courtesy his frankness and no-nonsense approach towards important subjects. With the #MeToo movement in full swing, the Mera Khuda Jane star has joined the likes of bigwigs Osman Khalid Butt and Adnan Siddiqui and shared his two cents on victims of sexual harassment, nepotism in Pakistani entertainment and what defines stardom.

Ali Abbas: A man of honour

Talking to The Express Tribune, the son of TV personality Waseem Abbas revealed it's important to believe the survivors of sexual misconduct, most importantly those who have mustered up the courage to share their stories. 




The Express Tribune (ET): There has been a lot of talk about the #MeToo movement in Pakistan. What is your take on the subject?

Ali Abbas (AA): There is no doubt about the fact that it is imperative to believe the victims. We have to extend our support to the brave women who are coming out with their experiences. We can't shame victims into silence and we can't fault them when we begin talking about it because it's a very traumatic event that has happened to them. Another very important change that this movement has done across the world is that it has helped in curbing the culture of silence. Now, if a person in power thinks that he can harass or exploit a woman and get away with it, he will have to think twice before even trying it.




ET: You say you have never used your father's name to get ahead in the industry. Does that mean you are strongly against nepotism?

AA: There's a whole culture of promoting not just your own family but a certain set of blue-eyed boys in our industry which I'm not a fan of. This is a huge obstacle in the growth of our industry because when you focus on the 'chosen ones', the doors are closed for those who are more talented and deserving. Hence, we don't get to see actors who are different. I feel it's a great loss not just for today but also for the times to come.

My father didn't want me to be an actor. I struggled on my own and against his will. To this day, I haven't gotten a job based on who my father is or who my grandfather was. I have always been approached for roles based on what I have been able to do on-screen. A big proof of that is not a lot of people even make the connection when they see me. They look at me as 'Hey, that's the guy who played Wahaj in that drama!' And, that's what makes me proud of my struggle and who I am today.




ET: What do you think defines stardom? Do you want to be Shah Rukh Khan or Daniel Day Lewis?
AA: I'm more like Ayushman Khurrana or maybe Nawazuddin Siddiqui (laughs). Look, I'm an ordinary looking person. I won't be considered a beautiful boy like Mikaal Zulfiqaar or Ahsan Khan. I'll always look how I look. So I have not tried to be someone I'm not. I've been in this business for six years now and I've only sold myself for my talent. I know my work, I love what I do and I know I'm good at it. The truth that I believe in is that a lot of things fade with time and people change flavours quickly, as to who their favourite hero is. But, what stays the same is what people feel about an actor's work.




ET: You seem to be the opposite of the characters you play on-screen? Is this true?
AA: I am nothing like the guys I play on-screen. At the end of the day, I'm playing a role; I'm not being myself in the particular character I delve into. But, I'll tell you what. Contrary to what critics believe, we don't decide content. The audience decides it. We just give them what they want. When the girl gets hit, it brings the ratings. When there is an angle of rape in the drama or any kind of sexual abuse, it gets rating. So everyone jumps on the bandwagon because they want to make what the audience wants to see.

The educated class that hates on our dramas isn't tuning in at all. For them, the only TV hero they know is Fawad Khan, which is obviously fine but they are simply critiquing our dramas without even watching them.

11 Pakistani dramas you can't miss this year!

ET: Do you have any dream roles?
AA: I loved Ranbir Kapoor in Tamasha and Rockstar. I would also love to play something like Saif in Omkara. In Hollywood, I am extremely fond of Ryan Gosling's work.

Have something to add to the story? Share in the comments below.
COMMENTS
Comments are moderated and generally will be posted if they are on-topic and not abusive.
For more information, please see our Comments FAQ